Dowling Auditorium of Restoration Hall and two classrooms in the E-Wing of the Charles A. Mills Administration Building were the focus of the classroom upgrades. The funds were used to paint and replace furniture in each room, plus add carpet in the two Administration Building classrooms and replace the carpet in Dowling Auditorium.

"The new carpeting and comfortable classroom chairs help to provide a great learning environment. One thing I especially like is that that chairs have wheels and students can adjust their location easily to be able to make eye contact with the teacher or see the main screen." - Dr. Mike Nichols, Professor of Intercultural Studies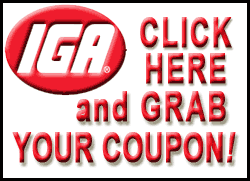 The project was announced in December 2013, following the receipt of gifts totaling $50,000 from the Woods Foundation and an estate gift in memory of Harold and Gwendolyn Kubley. In April, the annual Christian Women's Conference free-will offering was added to the fund to help achieve the refit project goals for updating the technology in Restoration Hall's Dowling Auditorium.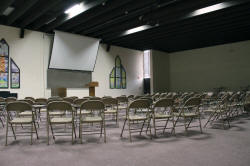 Dowling Auditorium - before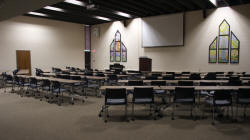 Dowling Auditorium - after
"Seminary chapel gatherings have been positively impacted by the new chairs in Dowling auditorium. They provide a more beautiful environment and greatly enhance community" said Seminary Dean Dr. Dinelle Frankland.

The work was completed at the end of July, in plenty of time for the start of the new school year on August 11. In fact, Professor of History and Interdisciplinary Studies Dr. Brian Messner reported, "As classes were getting started lots of students stopped by to have a look and were very impressed."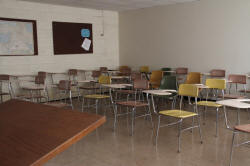 classroom - before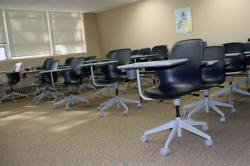 classroom - after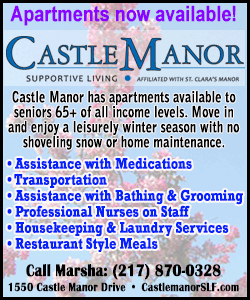 The classroom refit project addressed two critical needs for LCU: 1) bringing the classroom environment in those rooms up to expectations for current educational practices; and 2) assisting in the attraction and retention of students.

Assistant Professor of New Testament and Early Christianity Dr. Nick Zola voiced what many instructors were thinking when he said, "The remodel of Dowling Auditorium lends itself wonderfully to a more interactive learning environment. With chairs and tables on wheels, I can have my students begin in a lecture arrangement facing me, then have them turn around and face each other for group work or discussion, and then return to me for a wrap-up. It provides great flexibility."
"I've noticed a distinct enhancement in the level of student attention. Students seem more comfortable and more focused on what I'm trying to teach," added Dr. Rich Knopp, Professor. of Philosophy & Christian Apologetics.

The grant from the Woods Foundation was made possible through the generosity of Robert J. Woods and Joan Jarrett Woods through the creation of their foundation. Prior Woods Foundation gifts have been used for library renovations, improvements to the Earl C Hargrove Chapel, the acquisition of a mini-bus, and other critical LCU needs.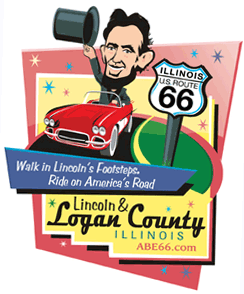 Lincoln Christian University is celebrating its 70th anniversary this year. Its ongoing mission is to equip Christians to serve and lead in the church, the workplace, and the world. LCU offers a variety of degree programs for undergraduate, graduate and seminary students. Classes are offered on campus, at extension sites and online. To learn more visit www.lincolnchristian.edu.

Additional comments:

"Students in my Spiritual Direction class were thrilled with the mobility and versatility of the desks during the week-long intensive back in August. We didn't sound like a herd of elephants when I asked them to break out in small groups or circle up. It made the long days of learning bearable." – Dr. Neal Windham, Professor of Spiritual Formation

"Honestly, when I first walked into Dowling Auditorium this fall, I backed out of it thinking I was in the wrong room. That's how much it has been transformed." Dr. James R. Estep, Dean of the School of Undergraduate Studies.
[Text received; CHRISTINE THOMAS, LINCOLN CHRISTIAN UNIVERSITY]