It's time to check out that basement and garage!
Household hazardous waste collection coming to Logan County Fairground October 11

Send a link to a friend Share
[September 12, 2014] LINCOLN - Looking for a free, environmentally safe disposal option for household hazardous wastes such as oil-based paint, pesticides, old medications and other household chemicals?
The Logan County Joint Solid Waste Agency along with the Illinois Environmental Protection Agency will be holding a Household Hazardous Waste Collection on Saturday, October 11, 2014. The collection will be held at the Logan County Fairgrounds from 8 a.m. to 3 p.m.. The collection should be entered through the Short 11th Street entrance. Event will take place rain or shine.

Area residents who have been storing these household hazardous wastes in their basements, sheds and garages are encouraged to take advantage of this one-day collection event. The last Household Hazardous Waste Collection held in Logan County was in 2003.

The collection will accept the following items: Oil-based paints, thinners, chemical cleaners, unwanted pharmaceuticals, mercury and mercury containing items, antifreeze, motor oil, gasoline, kerosene, herbicides, pesticides, insecticides, adhesives, hobby/pool chemicals, aerosol paints and household batteries. Fluorescent and other high-density lamps may also be brought to the collection. The public is encouraged to find alternative uses for latex paint since it is not considered hazardous.

Items not accepted include: explosives, ammunition, fire extinguishers, smoke detectors, controlled substances, sharps and needles, controlled substances, agricultural chemicals, farm machinery oil and business/commercial/institutional waste. Propane tanks and lead acid batteries cannot be accepted, but should be taken to local recyclers.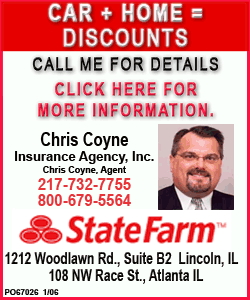 Hazardous materials collected at the event will be re-used, recycled or destroyed by private contractors hired by the IL-EPA to manage the collection. These collections are the preferred method of disposal for household hazardous waste as the potential exists for serious health and environmental consequences if these materials are not properly handled and disposed of.

Questions regarding the collection should be directed to Mitzi Rohlfs, Logan County Joint Solid Waste Coordinator at 217-732-9636 or at 217-737-7927. The agency's email address is mrohlfs@co.logan.il.us. Recyclers are encouraged to "Like" the Logan County Joint Solid Waste Agency on Facebook for the most current and up-to-date information on the Household Hazardous Waste Collection or other recycling programs of the agency.
[Text received; MITZI ROHLFS, LOGAN COUNTY JOINT SOLID WASTE AGENCY]