Horse auction to benefit National Railsplitting Festival
Send a link to a friend Share
[September 13, 2014] LINCOLN - Local artists and community volunteers have created a whole new kind of horse. Some are brightly colored, some have unusual features, most reflect a theme, but they all have one thing in common - they were designed to raise funds and awareness for the National Railsplitting Festival, to be held Saturday and Sunday, September 20 and 21, at the Logan County Fairgrounds.
Bids can be made for the horse(s) of your choice, on display at a business location in downtown Lincoln, and at Teleologic Learning Company, Atlanta, until noon, Friday, September 19. At that time, horses and bid sheets will be taken to the fairgrounds where the silent auction will continue from 10 a.m., Saturday, until 2:30 p.m., Sunday, September 21, when winning bids will be announced prior to activities leading up to the National Railsplitting contest, scheduled for 3:15 p.m. Bidders do not have to be present to win, but don't forget someone else can up the ante until that Sunday afternoon.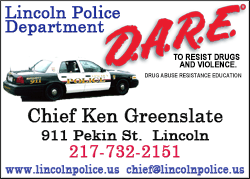 Business locations, creators and themes are:
Serendipity 129 S. Kickapoo (Georgie Borchardt).

Hallie's On the Square, 111 S. Kickapoo (Moses Pinkerton) Blue-eyed Black Beauty.

National Rent-to-Own, 101 S. Kickapoo (Nancy Saul) One Trick Pony.

Salon Trio, LLC, 521 Broadway (Jennifer Hemberger) Ballerina.

Johnny's Buy, Sell & Trade, 519 Broadway (James Power) All-American Horse Power.

Logan County Genealogical & Historical Society, 114 N. Chicago (Julia Power).

Quality Glass & Glazing, 210 N. Chicago (Jennifer Hemberger).

Sun Loan Co., 130 S. Chicago (Sherlyn Bolton).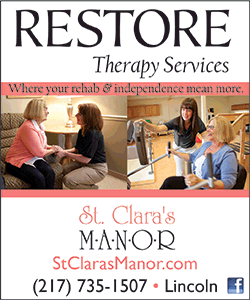 New Beginnings, 201 S. Sangamon, (Jeri Dennis) Pastel Pony.

Log Cabin Quilt Shop, 429 Pulaski (Pam Moriearty) Le Cheval Dore'.

Logan County Herald, 509 Pulaski, (Marla Blair) Black & White, and Read All Over.

Teleologic Learning Company, 114 SW Arch St., Atlanta (By Grace) Patches & Dreams.
This year's National Railsplitting Festival has a western theme that will set the stage for children's games, photo settings and fun features around the buildings and grounds. Admission will be $1 per person, children 3 years old and under, free. Sponsorships to support the Festival are still available. Contact Daris, 217-836-7084.

[Text received; MARLA BLAIR, VOLUNTEER, NATIONAL RAILSPLITTING FESTIVAL]