Visitation: 10 a.m. to Noon Saturday at Holland Barry and Bennett Funeral Home
Service: Noon Saturday, at the funeral home
Funeral home: Holland Barry & Bennett Funeral Home
Obituary
Nelda May Rogers, 94, of Lincoln, formerly of Emden, passed away on September 16, 2014 at The Christian Village.

A visitation will be held at Holland Barry and Bennett Funeral Home Saturday, September 20, 2014, 10:00 a.m.-12 Noon. Funeral services will immediately follow at noon. Don Green and Chris Bivens will officiate. Burial will take place at Bethel Cemetery , Emden.

Nelda was born September 14, 1920 in Emden, Illinois, the daughter of William Harms and Sena (Leesman) Harms. She married Herbert Rogers September 14, 1945. He preceded her in death February 12, 2006.

She is survived by her children Mark Rogers of Emden and Matthew (Kimberly) Rogers of Darien, IL. Also surviving are her grandchildren Brianne Beers, Tami Combs, Cassondra Rogers, Daniel Rogers, Faith Rogers, Jordan Rogers, and seven great grandchildren. She was preceded in death by her parents, husband, daughter Melody Hufnagel, and sisters Jeanette Yontz and Mildred Burke.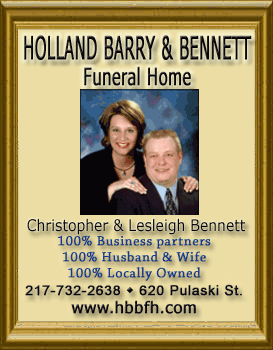 Nelda enjoyed reading and needlepoint, and was an amazing cook. She was a graduate of Illinois State University and Hartsburg Emden High School and was a lifetime farmerís wife who taught in a one-room school house in Delavan. She was a member of the Illinois Retired Teachersí Association, the Womenís Auxiliary at The Christian Village, and Emden Christian Church, where she served on the Womenís Council and taught Sunday School. She also played the piano.

Memorial donations may be made to Emden Christian Church, Christian Homes in Lincoln, or Safe Haven Hospice and will be accepted at Holland Barry and Bennett Funeral Home.
Click here to send a note of condolence to the Rogers family.