Visitation: 4 p.m. to 7 p.m. Tuesday at Fricke-Calvert-Schrader Funeral Home, Lincoln
Service: 10 a.m. Wednesday at the funeral home
Funeral home: Fricke-Calvert-Schrader, Lincoln
Obituary
Thomas "Tom" Bunner, 69, of Lincoln passed away at 11:45 p.m. Friday evening at his residence.
Tom was born on December 10, 1944 in Lincoln, to Forest O. and Fern Aery Bunner. He married Anna Wilcoxson on July 5, 1996. She survives him in Lincoln. Tom retired from Memorial Medical Center after 28 years in the Engineering Department. He was a member of the First United Methodist Church, Lincoln Elks Club and was an avid golfer. He worked with youth baseball, American Legion baseball and was a Chicago Bears and San Francisco Giants Fan.
Surviving Tom are his two sons Todd (Gina) Bunner of Jacksonville, and Scott Bunner of Broadwell, step-son Jack (Wendy) Woodard of Poulsbo, WA, step-daughter, Tammy (Kenneth) Aulgur of Bremerton, WA, six grandchildren, Cory (Katie) Bunner, Colby (Maria) Bunner, Cyndey Bunner, Clark Bunner, Kelsey Bunner, Brock Bunner, four step grandchildren, Erica Woodard, Teal Victoria, Garrett Woodard and Marissa Aulgeir and one step great grandchild, Kaiyanna.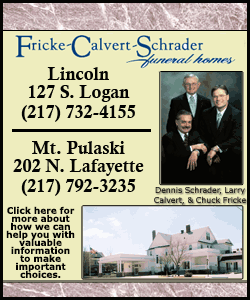 He was preceded in death by his parents, three brothers, Robert, Larry and Bill, and four sisters Barbara Standley, Beulah Newton, June Hall and Kay Bounds.
Services for Tom will be at 10:00 a.m. Wednesday September 24, 2014 at Fricke-Calvert-Schrader Funeral Home, Lincoln with Rev. Michael Paulson officiating. Visitation will be Tuesday evening from 4:00-7:00 p.m. at the funeral home. Burial will be at New Union Cemetery in Lincoln. Memorials may be made to the donor's choice.
Click here to send a note of condolence to the Tom Bunner family.