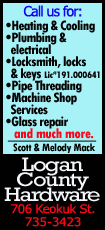 The LYF offers football to youth by age groups from kindergarten through eighth grade. Numbers were down in the program a bit the last couple of years, but it still involved 160 kids and 30 dedicated adults this year.

Steve Farris became involved with the Lincoln Youth Football league about 10 years ago and has been coordinating the program quite a number of years now.
Farris knows how important reliable, good volunteers are to the program and appreciates all those who make the LYF program possible.

On Thursday evening as the LYF season is coming to an end, mid-practice he called all the groups in, and huddled the kids and coaches together. Farris then took a moment for praises, thanking all the volunteers that made this year's program possible.

Farris also announced that he wanted to recognize a few of those who have gone above and beyond. The first group he identified as deserving special recognition was Volunteer of the Year.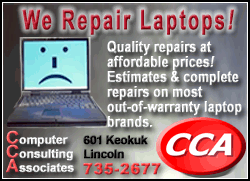 A few years ago Eaton permitted the league access to some of the company's excess land along Lincoln Parkway north of Lincoln. The fields are kept mowed and groomed and make beautiful practice and playing fields.

Volunteers of the Year

Farris announced Dave Hurley as Volunteer of the Year.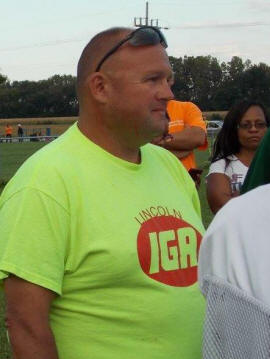 Hurley is the league's field maintenance man. He mows it, paints the line, the numbers, even the hash marks. He spends hours each week to make it look the way it does, Farris said.

"I have opposing coaches tell me every week that our field looks nicer than their high school field.

"Hurley can be seen out there at 11p.m. on a Friday night getting field ready for Saturday games. So if you haven't seen Dave's work, just drive by on this Saturday and Sunday and look how nice those field are."

Next he announced one more important Volunteer of the Year.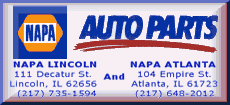 "Pam Laubenstein has many titles. She is my secretary/booster president. She is in control of signups, fundraising, and concessions; and just about anything the program needs. Besides myself, I would say Pam puts in more time than anyone involved with program.
"She starts in May by collecting signups and putting together rosters, and coordinates just about every event we have. Without her my job would be 10 times harder. And if it weren't for her, I may have burnt out already. But she has really lightened my load out here. So the program is grateful to have her, hopefully for many years to come."
Coach of the Year
There were three coaches honored as nominees for Coach of the Year: Rickie Hoffert, Shaun Worth and Wes Fuchs.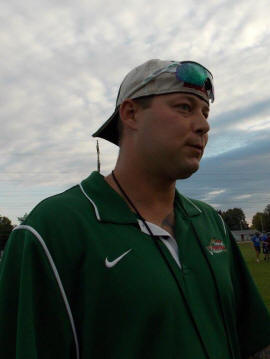 Shaun Worth aka 'Coach Peaches,'
Lincoln Youth Football's Coach of the Year
Shaun has been working with the league for about seven years and is in his second year working with 2nd and 3rd graders.
Shaun has been working in the league for about seven years and is in his second year working with 2nd and 3rd graders. "He is the kids favorite coach and [it] doesn't matter what grade," Farris said.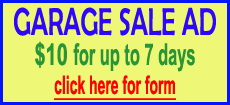 Farris said, "He is the kids favorite coach and [it] doesn't matter what grade.
"Shaun is always the first coach to practice and he will stay at the field until everyone of his kids is picked up. He doesn't even have a kid involved in program. So to see the time and effort he puts in everyday is remarkable.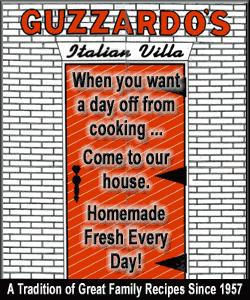 "He is the only coach I have that will come out to the field and set it up for games when he isn't even asked, or doesn't even have a game. He says he does it because he knows how hard I work to make program go, and does it to help so its one less thing I have to do.
"If you drive by about 5:15 p.m., he will be the coach where the kids have gathered and are playing catch and it will be kids of all ages not just his team.

"I gave him a tough job this year. I gave him a team of 38 kids. We had a lot of late signups and no time to make another schedule for another team. So we went with one big team and it wasn't easy. I know because the first year I coached, I had 46 kids on my team and it was a long year.

"Shaun never complained one time this year about the situation. He just did the best he could and he just went with it.
The 2nd/3rd grade 28-21 victory over Williamsville this past weekend gives the team a record of 6-1 and sends Shaun's team into championship play next week against Athens. The team plays for the title at 4 p.m. Win or lose, regardless he is a winner in our eyes and a great asset to the program and kids of this community.

""So for that we say, "Congratulations coach, you earned it,"" Farris said.

Worth was surprised by the honor and afterward humbly said, "I do it just because I love the kids."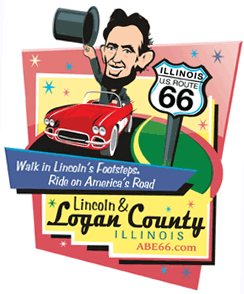 Two other coaches nominated
Two other coaches were also nominated for their dedication to the program: Rickie Hoffert and Wes Fuchs.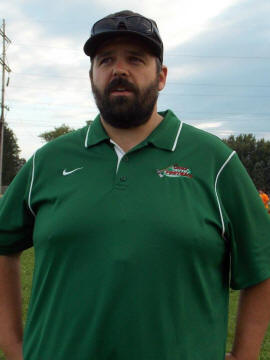 Rickie Hoffert runs the 8th grade defense
and does a great job, Farris said.
For Hoffert, it is a family event. Rickie's son Denver is an up and coming football player who loves the sport and has developed skill.

Due to being a larger than average kid, Denver has always been bumped up to the next grade play. Now as an 8th grader and in his final year of youth football, he is playing with those in the same grade as he.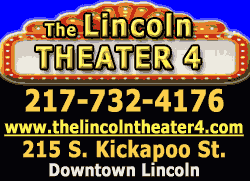 The size difference between Denver and his peers is finally narrowing. But those years of push playing with older kids advanced Denver into a solid player. He's having a great season and anticipating entering more advanced travel league play that starts in Oct. Father and son have plans for Denver to spend Christmas playing football in Dallas, TX.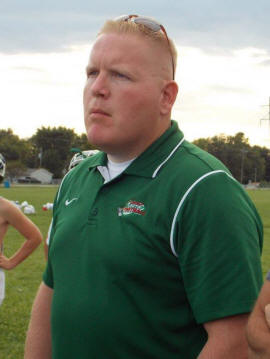 And, Wes Fuchs was also nominated.
Fuchs coaches the 5th Grade.
Wes was an assistant to Farris for a few years.

When Cody Atkins, who had been a solid coach and assistant for four years left the community, it was a tough blow to the program. Wes offered to take his place.

"Cody was beloved in our program, so I told Wes he had big shoes to fill, and he said he would give me 100 percent effort and commitment.. He said he could never replace Cody but would make sure the kids had fun, and he would do whatever I asked of him, and he has he lived up to his end of the deal and the kids never missed a beat," Farris said.
Lincoln Daily News raises our hats to all the coaches and volunteers that have made a successful youth football program. Your dedication enriches the lives of our youth, and makes Lincoln a better place to live for all. We appreciate your great effort.

[Jan Youngquist and the LDN Staff]