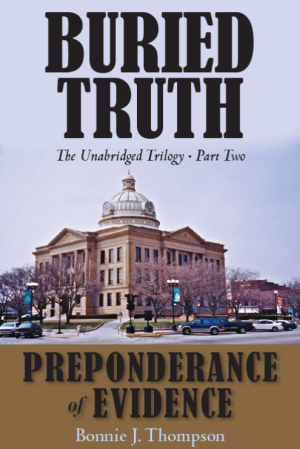 Buried Truth - Preponderance of Evidence
Thompson releases part two in trilogy on Logan County Murder Cases
Send a link to a friend Share
[August 01, 2015] After nearly twenty years of research, Bonnie J. Thompson, the daughter of former Logan County State's Attorney Roger W. Thompson, releases her tell-all trilogy, Buried Truth, a unique true crime saga about one woman's undying perseverance in a lonely battle for truth and justice.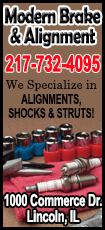 In Part Two: Preponderance of Evidence, Thompson returns to Lincoln to conduct further investigation and unwittingly uncovers, what appears to be, a cover-up. Buried evidence connecting to one of the unsolved murders seems to link to one of the suspected accomplices in the triple homicide, and two former Lincoln detectives choose to conceal information about missing evidence. Thompson approaches her father's two assistants from '76, and they willingly help in her investigation. She also meets scientist Dr. Lawrence Farwell, the inventor of Brain Fingerprinting, and he becomes involved in her quest for truth.

In 2003, a retired Illinois State Police lieutenant—who was a former deputy sheriff and first responder at the scene of the triple homicide—agrees to assist Thompson but ultimately becomes unreliable and underhandedly removes critical evidence from the courthouse. Thompson and Farwell make contact with the former defense attorney and the mother of convicted triple murderer Michael Drabing, and Thompson makes arrangements to speak with Drabing at Menard Correctional Center, Illinois' largest maximum-security prison.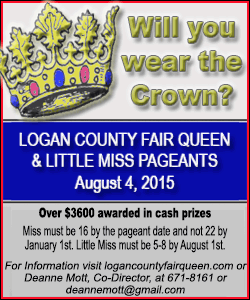 When Thompson returns to her home in Idaho in November of 2003, she learns former Lincoln Detective William Krueger has released a book about his participation in two of the murder investigations. After reading his book, Thompson recognizes Krueger has withheld vital evidence from public knowledge and fabricated information pertaining to evidence.

Read more of Thompson's unabridged trilogy as her story continues in Part Three: Plea for Justice.

"Ruth's husband and children and the rest of us have gone through so much. Please put yourself in our situation. Maybe some day this could happen to one of your dear ones. We never thought it would happen to one of ours either."
—Mrs. Marie Haugen,
mother of cold case victim
Ruth Martin in a letter to
Governor James Thompson,
February 16, 1979

Bonnie J. Thompson is no stranger to the world of criminal law and courtroom drama. Her father, Roger W. Thompson, and grandfather, Donald L. Thompson, were both noted trial lawyers. The Logan County Courthouse provided Bonnie with a very important education, for it was there that she learned the value of truth and justice.
Although she often considered pursuing a degree in law, she found herself more drawn to music, writing, and investigation. In her spare time she performs as a professional singer/songwriter/ guitarist, and she particularly enjoys singing jazz and blues standards. Her previous works include a screenplay entitled, Process of Elimination, and True Facts & Findings, a critical review of a book written by former Lincoln Police Detective William Krueger called, A Force for Evil. Thompson's books are available through her website: www.buriedtruthtrilogy.com and/or www.processofelimination.info.

Thompson is self-published and is releasing her trilogy in an eBook download PDF file format (Adobe Reader required). Her new trilogy can be purchased through her website: www.buriedtruthtrilogy.com. Part Two: Preponderance of Evidence is priced at $29.99. Book purchases can be made with a credit card (a PayPal account is not required to purchase Thompson's books). Once the transaction is completed, the eBook(s) will be downloaded as a PDF file to the customer's computer, iPad, or handheld cellular device. Thompson's books are copyrighted through the Library of Congress and cannot be copied, reproduced, transmitted or sold without the author's permission.

Part Three: Plea for Justice is completed and soon to be released. Thompson is calling for official reinvestigation of the Michael Mansfield and Ruth Martin cold cases and also the Schneider triple homicide. She urges people to sign the petition on her website requesting official reinvestigation of these nearly 40-year-old murders. She also encourages anyone with information about these murders to contact her through her email address: bjt76@buriedtruthtrilogy.com. Thompson has also created a public page on Facebook to promote her trilogy called, "Buried Truth Trilogy."
[Bonnie Thompson]