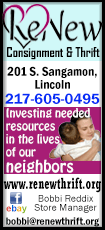 This meeting will be held at the Railsplitter Conference Center, 427 Pulaski Street on Wednesday, December 16 from 7:00 a.m. to 8:00 a.m. and 7:00 p.m. to 8:00 p.m.

Lincoln Community High School has heard from three different conferences inquiring as to the district's possible interest in leaving the Central State Eight Conference. Those attending are welcome to hear about the academic, co-curricular, and athletic opportunities each conference affords, as well as ask questions and offer their input.
This "Coffee" will have a very informal format and those attending are welcome to come and go at any time during the meeting.
[Lincoln Community High School District Superintendent Robert Bagby]