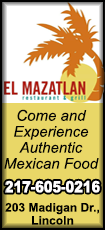 Aurora is a senior at Lincoln Community High School.
Ms. Brenda Silano, instructor, selected Aurora for her great attitude. Ms. Brenda Silano says that Aurora comes to class with a smile on her face and she is always ready to cook whatever is planned and never complains.
Aurora does an excellent job in food preparation and has talent when it comes to Culinary Arts. She always follows the rules and has a positive attitude and exceptional attendance. Aurora enjoys cooking and takes pride in her work. Itís a pleasure to have Aurora in class.

Auroraís future plans are to go to Western Illinois University and study forensic chemistry.

Aurora received a $50 from the Kiwanis Club of Lincoln who sponsors this award and honored her at a noon luncheon.
[Tina Shiers]