Send a link to a friend Share
May 2015
---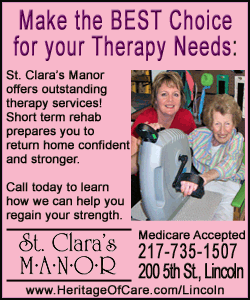 Thursday, May 28
No events on the calendar
Friday, May 29
No events on the calendar
Saturday, May 30
"All About Abstracts" workshop
HOSTED BY: Lincoln Historic Preservation Commission
WHO: Public
DETAILS: See Close up
WHERE: Lincoln Public Library, Pegram room
WHEN: 9:30 a.m.
Princess Tea
HOSTED BY: Lincoln Christian Church Harvest of Talents
WHO: Princesses and their adult guest with paid admission
DETAILS: See Close up
WHERE: Lincoln Christian Church
WHEN: 11:30 a.m. to 1 p.m.
5th Saturday Opry
HOSTED BY: Eagles Lodge
WHO: Public/Admission charged
DETAILS: See Close up
WHERE: 1621 N. Kickapoo, Lincoln
WHEN: 7 p.m. to 9:30 p.m.
Wounded Warrior Benefit in Latham Park
HOSTED BY: First Baptist Church of Lincoln
WHO: Free admission/cost attached to other events
DETAILS: An evening of music by Don Hunt and his band and barbeque by Nuthatch Hill BBQ. Please bring your lawn chairs or blankets and enjoy an evening at the park
WHERE: Latham Park, Kickapoo Street, Lincoln
WHEN: 6 p.m.
Sunday, May 31
No events on the calendar