New Picture Books to Make You Smile!
Reviews by Melissa Oxborrow
Send a link to a friend Share
[December 28, 2015] Heading into the deep winter months, now is a great time to have a few good books on hand for those cold, dreary days. Grab a blanket and snuggle up with one of these picture books and enjoy some together time with your kids!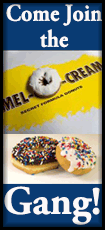 Telephone
by Mac Barnett
(illustrated by Jen Corace),
c2015

Mama Pigeon has a message for Peter: Fly home for dinner. As the message is passed from bird to bird sitting on the telephone wire, it changes---drastically. Will wise old owl be able to figure out the message before passing it on to young Peter? Mac Barnettís trademark humor shines is this simple celebration of the realities of miscommunication that will be a hit with children, pre-K through 2nd grades, while also giving the adults something to smirk about. I canít wait to try it out for story time!

Holey Moley
by Lois Ehlert,
c2015

Itís another hit by Lois Ehlert! Follow the life of the underappreciated mole, as he creates a home and searches for food. What happens when he grows too big for his burrow? He may want to move in with you! Simple rhyming language and the repeated line, ďHoley moley!Ē will engage children, as well as Ehlertís famous colorful die cut illustrations. Endpapers introduce readers to the broccoli worm, cabbage butterflies, grubworms and other critters that the mole uses for food. A great read-aloud with humor and heart, it will be a hit with children, pre-K through 2nd grades.


The Full Moon at the Napping House
by Audrey Wood
(illustrated by Don Wood),
c2015

There is a house, a full moon house, where everyone is restless.

Itís a companion to the well-loved The Napping House, but flipped on its head! Instead of telling the tale of a household awakening for the day, this is the story of everyone going to sleep. Those familiar with The Napping House will recognize the ďHouse That Jack BuiltĒ format, the evocative adjectives, and the gorgeous soft pastel illustrations, while also recognizing returning characters. Itís the perfect bedtime story for squirmy little people!
There Was an Old Dragon Who Swallowed a Knight
by Penny Parker Klostermann
(illustrated by Ben Mantle),
2015

There are plenty of variations of the story of the old lady who swallowed a fly, but this new title is in a class by itself. This greedy dragon starts by swallowing a knight (though itís not polite) and proceeds to rampage through the kingdom swallowing a squire, a cook, a lady, the moat and more. Eventually the dragonís tummy starts to hurt, so he proceeds to belch out everything heís swallowed, except for the poor knight. Clever and detailed illustrations paired with rolling rhymes get kids giggling and introduces them to some unfamiliar vocabulary along the way. Itís a great pick for older preschoolers and early grade school students, who will especially appreciate the burping!
-----
To check out these books or get recommendations for other great reads, please come see us at the Lincoln Public Library, 725 Pekin Street.
(Melissa Oxborrow, Youth Services Librarian)
[By MELISSA OXBORROW, Lincoln Public Library District]