Logan County Alliance carries on tradition of recognizing excellence in our community

Send a link to a friend Share
[December 28, 2015] LINCOLN - For many years the Lincoln/Logan County Chamber of Commerce has shined a spotlight on those businesses and individuals in Logan County that deserve it. The Logan County Alliance is continuing on with this tradition.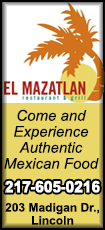 The Alliance invites you to help spotlight excellence in Logan County by making nominations for the Pride & Progress Awards. Nominations will be accepted until January 15 to celebrate the achievements of Chamber members in the continued development and improvement of Logan County.

The Pride & Progress Awards are designed to recognize outstanding achievement and promote positive awareness. The Pride & Progress Awards celebrate and acknowledge excellence, innovation, initiative, community involvement, and are a thank-you to those who go the extra mile to make Logan County a great place to live, work, and play.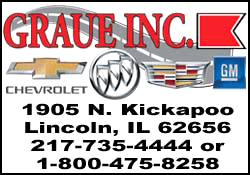 Awards are being given out for Business of the Year, New Business of the Year, the Mike Abbott Volunteer of the Year, Beautification Award, Excellence in Service, and new in 2015, the Educator of the Year. To be eligible to receive one of the above awards, businesses or individuals must be a member of the Lincoln/Logan County Chamber of Commerce in good standing.

Awards will be presented during the Annual Dinner hosted by the Logan County Alliance on Thursday, January 28, 2016 at the newly renovated Lincoln Grand 8 Theater. All nominations are due by January 15, 2016. The Logan County Alliance is inviting the community to share in celebrating their successes of 2015 at their Annual Dinner, Thursday, January 28, 2016. The Alliance will be highlighting the successes over the past year and kicking off the new year.
The evening will kick off with registration and a cocktail reception at 6 p.m. Dinner and cocktails will be served at 6:30 p.m., and program will begin at 7:30 p.m. The cocktail reception and dinner will be served on the second floor of the new theater and will be standing room only. All guests will move downstairs to a theater auditorium for the presentation and awards. Dinner will consist of an array of splendid cuisine samplings. During the evening the Alliance will introduce new board members, new Chamber members, and announce the 2015 Pride & Progress Award winners.
For full descriptions of awards or to nominate yourself or another Chamber business for any of the Pride & Progress Awards, go to www.lincolnillinois.com and visit the Annual Dinner page. The community is invited and encouraged to make nominations for these awards. Nominations may also be made online with this link: https://docs.google.com/f orms/d/1Nrj4VmeYwkElGYCh_MObitLa-JsJyJYHQ6UGczHXuW8/viewform

The Alliance Annual Dinner is Logan County Tourism Bureau and Lincoln/Logan County Chamberís annual meeting. All Chamber members and community members are invited to attend. Ticket costs are listed on the Alliance Annual Dinner page with discounts for early registration before January 11th.
[Cara Barr, Logan County Alliance]