Visitation: Tuesday, December 29, from noon to 2 p.m. at Holy Family Catholic Church in Lincoln
Service: 2 p.m. Tuesday at the church
Funeral home: Fricke-Calvert-Schrader, Lincoln
Obituary
Carlton Edward Dehner, 47, died peacefully at his home on Thursday December 24, 2015 at 12:12 p.m.

He was born on May 20, 1968 in Los Gatos, CA to Philip and Connie Hudspeth Dehner. Carl joined a family that already included his brother Frederick and was later to be joined by a sister, Michelle. Carl graduated from Carroll Catholic Grade School and attended Lincoln Community High School. Carl moved to Milwaukee and began his career in car sales in the early 90's. There he met and married Patricia Ross. Together they had two daughters: Jessica Layton and Samantha Marie.

Following a debilitating back injury, Carl returned to live in Lincoln, where he worked at the Lincoln Elks Pro Shop and 19th Hole. He was a NASCAR enthusiast and avid Chicago Bears fan. He loved all animals, particularly dogs and most particularly Dachshunds. He enjoyed golfing, fishing, hunting, and playing pool in the APA Pool League.

Carl's greatest joy in recent years was the birth of his granddaughter, Abigail Marie Rakowski.

In addition to his parents, daughters, and granddaughter, Carl is survived by a brother: Frederick V. (Kathy) Dehner of Baxley, GA; a sister, Michelle Dehner of Bloomington; niece Marissa Dehner; and many aunts, uncles, and cousins. He was preceded in death by his uncles Glen Klokkenga, William Wheeler, aunt, Rosemary Klokkenga; grandparents Frederick V. and Mona Lutz Dehner, and grandparents James and Thelma Werkman Hudspeth.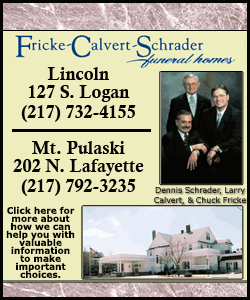 Carl was a generous and loving soul who was always the first to volunteer whenever anyone needed help. His passing has left a wound in our hearts that will never heal. We shall always miss his quick smile, gentle nature and giving heart.

A funeral mass for Carl will be held 2:00 p.m. on Tuesday December 29, 2015 at Holy Family Catholic Church in Lincoln with Rev. Jeffrey Laible officiating. The family will receive friends from 12:00 noon to 2:00 p.m., two hours prior to the service. A private family burial will take place at St. Mary's Cemetery in Lincoln at a later date. In lieu of flowers, the family requests that donations be made to Abraham Lincoln Memorial Foundation. Services are entrusted with Fricke-Calvert-Schrader Funeral home in Lincoln.

Click here to send a note of condolence to the family of Carlton Edward Dehner