Visitation: Wednesday, March 18 from 9 a.m. to 10:30 a.m. at Fricke-Calvert-Schrader Funeral Home, Lincoln
Service: 10:30 a.m. Wednesday, March 18, 2015 at the funeral home
Funeral home: Fricke-Calvert-Schrader, Lincoln
Obituary
Mildred Berniece (Osborn) Kaesebier, age 98, passed away on March 15, 2015 at St. Clara's Manor in Lincoln.

Mildred was born June 16, 1916, in Hartsburg, daughter of Harry Abraham and Lydia Anna (Peplow) Osborn. She was united in marriage to Wilbert Rudolph Kaesebier in Pekin on October 30, 1936. He preceded her in death on July 11, 1995. She was also preceded in death by her parents and two brothers, George and Harold Osborn.

Mildred is survived by one daughter: Mary Ellen (Richard D.) Martin of rural Lincoln, and one son, Wilbert Dean (Carol Colby) Kaesebier of Fairhope; four grandchildren: Dana (Clark) Oltmanns, Larry (Julia Armbruster) Martin, Tara (Jeff Zuerlein) Kaesebier, and Joy (Danny) Gould; ten great grandchildren: Heather Martin, Kyle (Janessa) Martin, Martin Oltmanns, Eli and Cooper Zuerlein, Chelsea, Amber, Adam, Kyle and Colby Gould.

Mildred was a member of St. John United Church of Christ and Logan County Farm Bureau. Mildred graduated from Hartsburg High School and graduated from Lincoln College in 1936. She taught at Walnut Row one room country school near Atlanta, Illinois in 1936-1937. She retired from teaching and with her husband started a farming operation six miles west of Lincoln, IL. She worked along the side of her husband until they retired in 1976. They enjoyed visiting with family and friends, traveling and every year they looked forward to attending the Logan County fair until failing health. Mildred enjoyed bingo, attended church and all the activities while at St. Clara's Manor.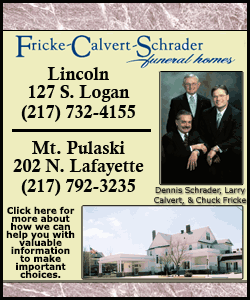 Services for Mildred will be at 10:30 a.m. Wednesday, March 18, 2015 at Fricke-Calvert-Schrader Funeral Home, Lincoln with Rev. Jan Johnson officiating. Burial will follow in Hartsburg Union Cemetery, Hartsburg. Visitation will be Wednesday prior to the service from 9 a.m. to 10:30 a.m. at the funeral home. Memorials may be given to St. John United Church of Christ, St. Clara's Manor or donor's choice.

Click here to send a note of condolence to the family of Mildred Berniece (Osborn) Kaesebier