Palms Grill Dinner Saturday night to Feature Stage Artists

Send a link to a friend Share
[March 18, 2015] LINCOLN - Ever wonder how those sword fights happen on stage? Join Jean Kerr and Paul Dennhardt, theatre artists from Illinois Wesleyan University, for dinner at the Palms Grill on Saturday, March 21. Dinner starts at 5 p.m. with the program to follow at 7 p.m. The program—hosted by the Atlanta Public Library—is free except for the cost of dinner.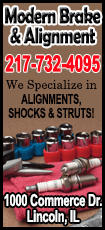 Kerr and Dennhardt have worked in theatre throughout the United States, and Kerr also serves as Artistic Director of the Library's Summer Arts Theatre Camp for children. They promise a lively evening, including a special backstage look at all the secrets of fight choreography and stage movement. They will demonstrate how actors learn to move, jump, fall and careen across the stage without getting hurt, as well as show us some weapon technique, using Dennhardt's unique collection of swords and daggers.

As the Palms Grill season winds down, there is no better way to join the fun than dining with these two outstanding artitsts.

This presentation is a joint program of Dinners at the Palms Grill and Behind the Scenes. Dinners are sponsored by the Atlanta Betterment Fund, and Behind the Scenes is sponsored by The Atlanta National Bank.
[Catherine Maciariello, Lincoln Public Library]