Railer Baseball Diary Week Four: Lanphier Provides Easy Target, Heat Kids Take The Field
Send a link to a friend Share
[April 14, 2016] By Benjamin Yount

LINCOLN – It is always nice to win, it's even better to beat your rival back to back.
Lincoln's baseball Railers found their bats this week, beating Lanphier High School twice.

The 'Splitters found their bats against the Lions, winning 9-0 on Tuesday and 10-2 on Wednesday.

"The good thing about playing a team like (Lanphier), although we are supposed to beat them, is it gets you rallied-up and going," Junior catcher Jake Konczyk said after a two RBI game on Wednesday. "We had some really good plays out here, defensively and offensively, and I think that can carry us over."

Konczyk started the Railers' scoring splurge Wednesday with a two-run base hit in the first inning.

He lead the effort to put the game on ice with a perfectly executed bunt in the sixth.

"It was nice to see some small-ball stuff happen," Lincoln Head Coach Pat Hake said Konczyk's bunt was the first of three that lead to five runs. "A bases loaded squeeze, that's not something I want to do everyday, but I like (our guys) in that position."

The Railers bunted Lanphier into frustration Wednesday, but more importantly to Hake, the team found their bats again.

"Guys are almost jogging to the plate now, where as last week the bats seemed a bit heavier," Hake added.

It will be a test to see if the Railers, who are in fourth place in the Central State Eight, can keep that momentum with games against Springfield, Mahomet-Seymour, and Washington still to come.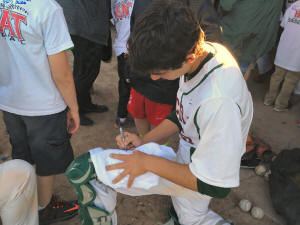 Heat Join Railers

The dugout was a bit crowded for Railsplitters Wednesday, as dozens of possible future Splitter players joined the varsity team.

The Lincoln Heath youth baseball teams took the field with the high schoolers, and spent the game in the dugout.


Heat league director Josh Baker says the idea for a pro-day of sorts came to him just a few weeks ago.

"We want to improve Lincoln baseball," Baker said. "We want to develop fundamentals at the lower levels, getting the older levels to be competitive, and then hopefully when we turn them over to the high school the kids are ready to go."

In addition to a pre-game introduction, the Heat players got a chance to sit with the older players and even collect some autographs.
[Benjamin Yount]