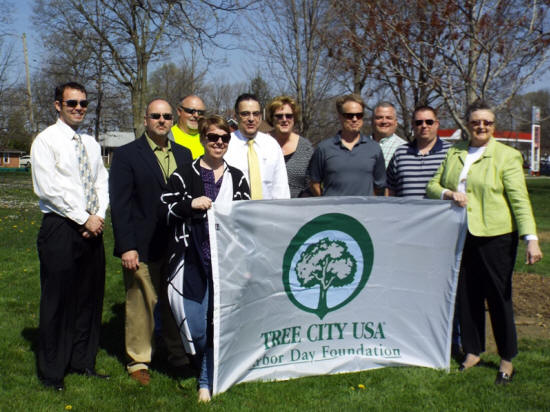 City of Lincoln holds Tree City USA dedication and Arbor Day observance

Send a link to a friend Share
[April 16, 2016] LINCOLN - On Friday morning, Walt Landers and Russell Wright of the Lincoln Street Department and City Forestry Program were joined by several city officials in a tree dedication ceremony in honor of Arbor Day, and as required according to the city's designation as a Tree City.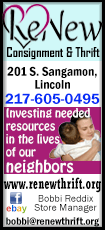 Among those on hand for the dedication were Mayor Marty Neitzel, Aldermen Michelle Bauer, Rick Hoefle, Todd Mourning, Tracy Welch, City Clerk Susan Gehlbach, Treasurer Chuck Conzo and City Administrator Clay Johnson.

The group gathered at the southeast corner of the city-owned, Postville Park in Lincoln, where two trees have recently been planted. Landers explained there were trees at that corner of the park that had to be removed recently, and the two new trees will serve as their replacements.

He noted that this year, there have been several trees planted in the city with plans to do more. In addition to the two at Postville, he said that five trees had been planted on Route 10 at the edge of the city. Some may recall that there has for several years been a brick structure that was a "Welcome to Lincoln" sign at the city's edge. This past fall/winter strong winds toppled the structure. Landers crew cleaned up the mess, and new trees were planted there. He also noted that other trees had been planted around town.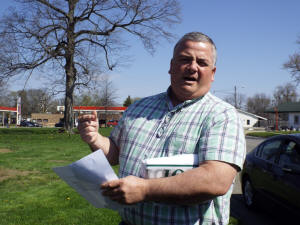 As part of the dedication ceremony, Landers read a brief statement concerning the city's Tree City Status.

"We are here today to dedicate these trees and demonstrate the city of Lincoln's commitment to the Tree City USA program and observe Arbor Day, which is Friday, April 29, 2016.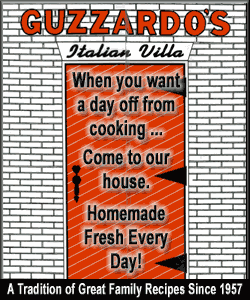 "The Lincoln Street Department oversees forestry operation in the city of Lincoln and participates in the Tree City USA program because it provides direction, assistance, and recognition for our community.

"It also helps us manage a healthy, sustainable forestry program so we can provide a beautiful landscape for the resident we serve."

The city representatives then gathered near one of the trees for a group photo with the Tree City Flag. The photo taken will be used as part of the required submission to the National Arbor Day Foundation to show the city's investment in the Tree City USA program. The Tree City designation does provide financial awards to the city, to be used for the placement of new trees throughout the city.

[Nila Smith]