Up In Smoke BBQ Competition adds two new features to this year's event
Send a link to a friend Share
[April 16, 2016] LINCOLN - The Lincoln BBQ Committee is pleased to announce to announce two significant changes/additions to the 6th annual Up in Smoke on the Square KCBS BBQ Contest sponsored by State Bank of Lincoln. These changes/additions are being made to keep our event interesting and allow interaction between the cooks and the general public.
The first change that will be implemented at this year's contest will be the addition of a sanctioned Friday night Steak Cook-off to be held Friday evening June 3rd.

The Steak Cook-off is being made possible through the generosity of Cresco Labs that started business operation in Lincoln in early 2016. Cresco Labs' sponsorship will allow for a cash purse to those finishing 1st through 5th. For a 75$ entry fee, the contestant will be provided 2 - 16 oz prime rib eye steaks, a 9-inch by 9-inch turn-in box and a chance to win part of the $1,250 purse. Contestants will be required to cook on site in downtown Lincoln using only charcoal and turn their entries in at a predetermined time announce at the cooks meeting Friday evening June 3rd. Steaks will be score by certified KCBS judges in three categories: appearance, taste, and tenderness.
Awards for The Friday Night Steak Cook-off will be distributed during the KCBS Awards Saturday, June 4th at 5 p.m. The steak cook-off category is being added to allow more local chefs to participate in our event.

The second change or addition this year will be a People's Choice Award for the backyard category. Cooks in the backyard category will be able to vie for bragging rights and a ribbon for "People Choice Ribs."

The general public will be able to purchase a wristband and tickets that will allow them to sample competition ribs from participating backyard teams and choose their "people's choice" winner. A limited number of wristbands will be available for purchase from Life Point Church. Wristbands will also available for sale Friday and Saturday at the AAA Siding and Windows refreshment center at the intersection of Kickapoo and Pulaski streets starting at 3 p.m. Friday. Sampling and judging take place from 2:30 p.m. to 3:30 p.m. Saturday, June 4th.

[to top of second column]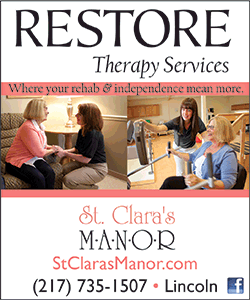 The People's Choice award will be announced during KCBS awards Saturday, June 4th at 5 p.m. Please visit http://www.lincolnbbq.com/index. php/backyard or call Lifepoint Church at 217-732-8989 for more information.

The 6th annual Up in Smoke on the Square sponsored by State Bank of Lincoln will be held during the Pigs and Swigs Festival in historic downtown Lincoln June 3rd and 4th. The contest has attracted some of the biggest names in competitive BBQ to Lincoln and pays one of the highest combined purses in Illinois.

Up in Smoke on the Square will consist of a Backyard BBQ division that allows local cooks to participate at a more modest level, Kids Q for kids 7 to 15 year of age, KCBS professional BBQ division, and Friday night Steak Cook-off. All of the prize money paid is sponsored by local businesses and helps bring additional people and tourism dollars to Lincoln and Logan County. Additional information on all BBQ related activities can be found at www.lincolnbbq.com or email us at info@lincolnbbq.com.
[Chris Graue, Up In Smoke BBQ Committee]