Doha meeting drives down commodity currencies
Send a link to a friend Share
[April 18, 2016] By Jemima Kelly
LONDON (Reuters) - Commodity currencies slumped on Monday and the safe-haven yen soared after major crude exporters failed to agree on an output freeze, sending oil prices tumbling once again.
A plan for oil producers to freeze production at a meeting in Doha fell apart on Sunday after Saudi Arabia demanded that Iran join in, leaving the credibility of the OPEC producer cartel in tatters and the world awash with unwanted fuel.

With a 5 percent fall in crude prices sapping risk appetite across markets, investors sought refuge in the yen, which hit a three-year high against the euro and traded close to a 1-1/2-year high against the dollar. By 0730 GMT it was up 0.6 percent at 109.16 yen per dollar. [O/R]

The Canadian dollar skidded by 1 percent to C$1.2948 versus its U.S. counterpart , while the Australian dollar fell 0.7 percent to $0.7673.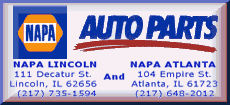 "After the Doha meeting, we've seen some clear risk-off sentiment coming into the day, with commodity currencies down," said Commerzbank currency strategist Esther Reichelt, in Frankfurt.

Reichelt added that the failure to reach a deal at Doha was likely to spur central banks such as Sweden's Riksbank to talk about further easing, because of the deflationary effect of lower oil prices.

The euro inched up 0.2 percent to $1.1300. But against the yen, it fell by as much as 1 percent, to a low of 121.71 yen. That was the lowest since April 4, 2013 - the day the Bank of Japan launched its massive asset buying program.

The United States offered a cool response to concerns voiced by Tokyo that the yen's gains are too sharp and may justify intervention, with Treasury Secretary Jack Lew saying at a G20 meeting on Friday that he did not see any disorderly moves in the currency market.
The outcome of the G20 meeting and falls in Japanese equities on concerns about the economic impact from deadly earthquakes in southern Japan are negative for the dollar against the yen, said Masashi Murata, currency strategist for Brown Brothers Harriman in Tokyo.

"Intervention in the yen has effectively become difficult," Murata said. He added that weakness in Tokyo shares can erode the risk tolerance of Japanese institutional investors and make them more cautious about overseas investment.

(Additional reporting by Ian Chua in Sydney and Masayuki Kitano in Singapore Editing by Jeremy Gaunt)
[© 2016 Thomson Reuters. All rights reserved.]
Copyright 2016 Reuters. All rights reserved. This material may not be published, broadcast, rewritten or redistributed.