Hartsburg-Emden students to present "The Seussification of Romeo and Juliet"


Send a link to a friend Share
[April 21, 2016] LINCOLN - Students at Hartsburg-Emden, grades 6-9, have been working diligently to make this year's performances of The Seussification of Romeo and Juliet a success. Doors open at 6:00 p.m. and shows will be at 6:30 p.m. on April 29th and April 30th. Cost for admission is $4 for adults and $2 for students.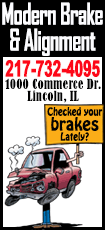 Students involved in the cast and stage crew include Baylee Baker, Brody Baker, Jenna Benner, Spencer Davis, Zoi Dunse, Madison Farris, Olivia Garcia, Zach Hamilton, Abbie Hoerbert, Garrett Hopkins, Ryan Kennedy, Maddie Maaks, Mayci Maaks, Emmary Matson, Payge McCree, Ivy Merz, and Sierra Smith.

The author, Peter Bloedel, and the critics of Playscripts describe the play as "A whimsical reinvention of Shakespeare's tragic love story, complete with rhymed couplets, creative wordplay, and fantastical machines -- similar to something Dr. Seuss might have come up with if he ever had his way with the script."
Those who have seen the play know that it is unique and funny for all audiences. Gina Robertson reviewed the play in John Garcia's The Column saying:

"Kids will recognize their favorite lines from Dr. Seuss as their folks take note of the most famous lines (sometimes slightly Seussified) from Romeo and Juliet... If you're having a hard time imagining it, you will be blown away."Please join us for Peter Bloedel's The Seussificaiton of Romeo and Juliet!
[Calob Pluhm, Music, Choir, and Band Instructor, Hartsburg-Emden Junior/Senior High School]