United Way of Logan County to host spring golf outing April 30th
Send a link to a friend Share
[April 22, 2016] LINCOLN - United Way of Logan County will host a Spring Scramble Golf Outing at North Greens Golf Course, Atlanta, on Saturday, April 30. Registration opens at 8 a.m., play starts at 9 a.m. This activity was once an annual fundraising event for the organization, and has been revamped for the 2016 golf season.
The purpose of any event hosted by United Way of Logan County is to raise funds in support of programs that provide services and programs for Logan County residents. Almost one-third of Logan County residents obtain services from, or participate in programs offered by: American Red Cross; W.D. Boyce Council, Boy Scouts of America; Center for Youth and Family Solutions; Christian Child Care; CAPCIL's Senior Nutrition and Logan-Mason Public Transportation; Girls On The Run; Girl Scouts of Central Illinois; Lincoln Area YMCA; Lincoln Pastoral Counseling Services; Little Lambs Learning Center; Pregnancy Resource Center; Logan-Mason Rehabilitation Center; Oasis/Senior Citizens of Logan County; Salvation Army/Keest Center; United Cerebral Palsy.

In order to provide local partnering agencies with ongoing financial assistance, the United Way depends on community support in the form of payroll deductions, private donations and corporate match. As state funding is reduced for lack of a budget, and outside funding sources are forced to pick and choose recipients of their limited resources, it is more important that communities come together to assist local agencies. Neighbors helping neighbors, businesses helping not-for-profits, group efforts adding up to significant contributions.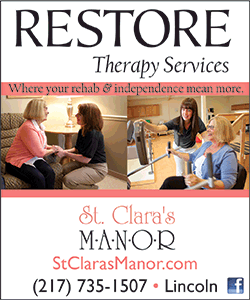 A morning in the sun, enjoying a game of golf and lunch with your friends and co-workers, will provide: scholarships for kids to attend YMCA activities and summer programs; put a senior citizen on the receiving end of daily meals; daycare scholarships for single parent and low-income families; community outings for challenged individuals who live and work in Logan County; matching funds (a federal requirement) for the CAPCIL-managed public transportation system; and the list goes on.

Sponsorship opportunities for the Spring Scramble Gold Outing are available for this first-of-the-season event. Sponsorship and Team Registration forms are available by contacting Marla Blair at the United Way, 217-735-4499, or uwloganil@ comcast.net. Kick off the golf season with community support that makes a difference.
[Marla Blair, Administrative Director, United Way of Logan County]