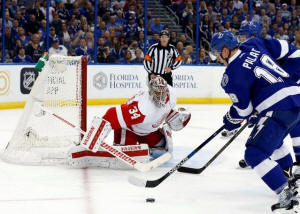 Lightning strike to dump Red Wings from playoffs
Send a link to a friend Share
[April 22, 2016] (The Sports Xchange) - For 58 minutes Thursday, a scoreless tie persisted at Amalie Arena, and then with 1:43 left, the Tampa Bay Lightning caught a loose puck behind the net as Detroit Red Wings goalie Petr Mrazek went back to clear it.
Ryan Callahan fed a pass to Alex Killorn in front of the net and he flicked it in for the game-winning goal, giving Tampa Bay a 1-0 win in Game 5 to eliminate the Red Wings in the first round of the Stanley Cup playoffs.

Tampa Bay goalie Ben Bishop outdueled Mrazek, making 34 saves in his first shutout this postseason.

Detroit pulled Mrazek late for an extra attacker, then got a power play with 44 seconds left for a 6-on-4 advantage, but the Lightning defense held on.

Tampa Bay's penalty kill went 4-for-4, finishing Detroit at one goal in 25 power-play opportunities.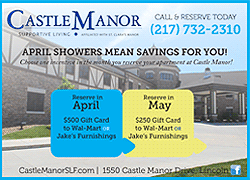 It was the second year in a row that Tampa Bay eliminated Detroit in the opening round. The Lightning now have time for much-needed rest before facing either the Florida Panthers or the New York Islanders in the second round.

The Panthers and Islanders are currently locked in a 2-2 series.

Bishop and Mrazek remained deadlocked in a scoreless tie deep into the third period, with Bishop being tested much more but Mrazek facing more shots in the final period.

Facing elimination, Detroit backed off from the physical, contentious, fight-filled play that had marked the first four games. Neither team could muster a penalty for a power play in the final period. It took a lucky break for the Lightning, catching an opportunity with Mrazek out of position.
With the Lightning hoping to close out the opening-round series on home ice, the teams took a scoreless tie into the third period. That was only because of superb play by Bishop, who stopped three breakaways in the second period.

The Lightning survived a five-on-three for 1:14 in the first five minutes with a substitution penalty followed by a cross-checking infraction on defenseman Jason Garrison.

Tampa Bay's penalty-kill unit had held Detroit to one power-play goal in 21 opportunities in the first four games, and went three-for-three in killing power plays in the first two periods Thursday.

The Lightning's power play, which had three goals in a Game 4 victory at Detroit on Tuesday, couldn't find the same success in Game 5. In a second-period power play, short-handed Detroit outshot Tampa Bay 2-0, with Riley Sheahan getting stopped on a breakaway.
[© 2016 Thomson Reuters. All rights reserved.]
Copyright 2016 Reuters. All rights reserved. This material may not be published, broadcast, rewritten or redistributed.