Memorial Gathering: 3 p.m. to 6 p.m. Friday, April 15th at Holland Barry & Bennett Funeral Home in Lincoln
Service: Friday at 6 p.m. at the funeral home.
Funeral home: Holland Barry & Bennett Funeral Home
Obituary
Gerard "Maynard" Carter, 34, of Emden, passed away Friday, April 8, 2016 as the result of a tragic automobile accident.

A memorial gathering will be held Friday, April 15, 2016 from 3-6 PM at Holland Barry & Bennett Funeral Home in Lincoln, IL. A celebration of life service will be held Friday at 6 PM also at the funeral home. Burial will take place at a later date in Zion Cemetery, Lincoln.

Gerard was born June 10, 1981 in Shamrock, TX., the son of Glenn W. Carter Jr. "Spec" and Shirley Eyrse Carter. He attended Hartsburg-Emden Jr. Sr. High. He was currently employed by Taylor Made Construction. He was a member of Force Multiplier Cross Fit in Lincoln, IL. Gerard was an avid Harley Davidson rider. He was proud of his bike and used every opportunity to help raise funds for those in need by participating in poker runs. He was a giving person and always had everyone else's best interest at heart. Everyone that met him loved him. He had a smile that could light up a room. Gerard also enjoyed fishing, hunting, target practice, dirt bike and four wheeler riding. His children were his whole world. He never missed an opportunity to have a cookout or a bonfire with his family and friends. He will be deeply missed by all who knew and loved him.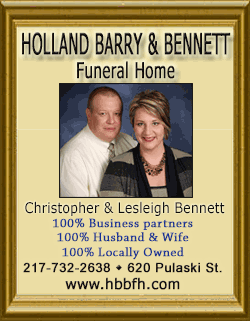 Surviving are his parents Glenn W. Carter Jr. "Spec" of Emden, IL. and Shirley Eyrse Carter also of Emden, IL; his children: Liyah Carter of New Holland, IL., Casey Carter of Anahuac TX., and Adelyn Carter of Pekin, IL.; his maternal grandfather Lewis Eyrse of Lincoln, IL.; his siblings Brittany (Justin) Ott of Hartsburg, IL., and Brandi (Grant Grimes) Carter of Rockville, IN.; his nieces Taylor Carter, Samantha Howard, and Maizie Grimes all of Rockville, IN., and several aunts, uncles, cousins, and friends.

He was preceded in death by his maternal grandmother Audrey Eyrse, his paternal grandparents Glenn W. Carter Sr. and Dorothy Busking, and his uncle Robert Eugene Dickson.

Memorial donations may be made to the family in care of Brittany Ott and will be accepted at the funeral home.

Click here to send a note of condolence to the family of Gerard "Maynard" Carter