Veterans Assistance Commission seeks office space

Send a link to a friend Share
[April 28, 2016] LINCOLN - With the recent establishment of the Logan County Veterans Assistance Commission, a search is underway to locate office space for the new organization. While space is available in the Logan County Courthouse, the VAC would like to have at least a couple additional options from which to select, in order to ensure it provides the folks it will serve with the best, most accommodating space.
With this in mind, the VAC is looking for a place that would offer the following:
An office space at least 12x12, which allows room for a desk, file cabinet, 2 chairs
A small waiting area for 1 or 2 people who may be in wheelchairs
Ample parking with the entrance at a street level - no steps, ramp or elevator needed
Located in an area that is not difficult to find
Handicapped accessible restrooms
A space that is accessible by the Superintendent after 4:30 should there be the need to meet a veteran who is not available during normal business hours
Need to be wired for a computer and phone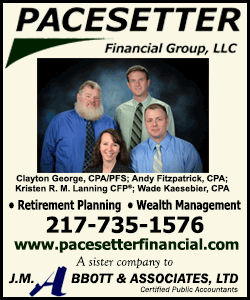 Please contact Joe Schaler (jschaler@yahoo.com) with questions or suggestions regarding office space for Logan County's new Veterans Assistance Commission.

The mission of the Logan County Economic Development Partnership is to cultivate a business environment that enhances Logan County by expanding our local and regional economy through programs that sustain and grow existing businesses, attract and establish new businesses, and increase quality employment opportunities.
[Bill Thomas, Executive Director, Logan County Economic Development Partnership]
Bill Thomas, Executive Director at:
wthomas@teleologic.net
217-732-8739
or 217-648-5077