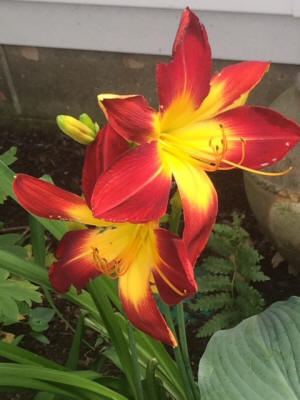 Monts Plant Sale to benefit Harvest of Talents slated for May 6th
Send a link to a friend Share
[April 28, 2016] LINCOLN - On Saturday, May 7, from 8 a.m. to Noon, Judy Monts will be hosting her 6th Annual Plant Sale at the Monts home, 520 Decatur Street, Lincoln, to benefit the Harvest of Talents for World Hunger.
The local gardener, who has a longstanding passion for daylilies, will be offering 30-40 new varieties of daylilies at this year's sale which will be held just in time for Mother's Day shopping. Along with the daylilies a selection of hostas and other perennials will also be available.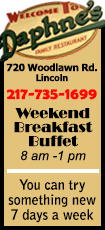 Many of the daylilies are varieties not available at local area nurseries. Judy has spent as much as $175 for some plants purchased direct from the hybridizer. Her search for the colorful flowers has taken her to hybridizers in Indiana, Tennessee, Florida, and Georgia, with the gardens of Georgia being her favorites. All of the plants available at the Monts sale will be offered for the "you just cannot beat it" price of $5.00 each. This is an opportunity to purchase unique plants for a truly bargain price ~ and Judy offers planting tips and advice to purchasers as well.
The local gardener has recently hybridized a new daylily that will be sold at her 2017 sale, but which she would offer for sale this year by request. The plant, not yet registered, is a bright orange, and named "Dr. Bob" for her husband, Bob Monts, Associate Professor of Christian Ministry, at Lincoln Christian University, who anticipates receiving his Doctorate Degree later this year. When asked why she chose a bright orange variety she smiled as she cheered "Go Illini!".

Among new acquisitions offered at the May 6 sale are "Riding into the Sunset" and "Prince of Persia", from Georgia gardens.

The local flower gardener coupled her passion for daylilies with her passion for feeding the hungry some six years ago when she began her plant sales to benefit the Harvest of Talents for World Hunger. Every penny raised at her sale will ultimately provide food for hungry and hurting people somewhere around the world.
The Monts plant sale is unique in that it offers purchasers the opportunity to purchase beautiful daylilies, in a variety of lovely colors, to offer to family and friends as gifts or to plant in their own gardens, while at the same time providing funds to feed hungry people worldwide through the Harvest of Talents Ministry. Mark your calendar now ~ you will not want to miss meeting this lovely Lincoln gardener and purchasing some of her colorful plants that have indeed been grown with love!

(Note: While the Monts Plant Sale is officially on May 6 ~ if you happen to drive by earlier and catch her in her garden ~ early sales are possible!)

"Do not worry. Consider the daylilies of the field, how they grow, they neither toil nor spin, and net I say to you that even Solomon in all his glory was not arrayed as one of these." Matthew 8:28-29
[Patricia Snyder]