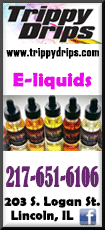 Guests will get the chance to see the newly-transformed building that once most-famously housed the Susan Collier Studio of Dance. The Bargers have created a fabulous 24/7 gym that features one room full of the latest in exercise equipment and weights, and another spacious room that will be the home to the many different classes that Barger and company intend to teach.

The entire building inside has been given a makeover as well and folks will really like the new and improved bathrooms and locker rooms for both men and women. Even the waiting area, where many a dance mom spent hours as their little ones danced and tumbled inside the studio, has been given a face-lift. Although, the glass cabinet where dance announcements and photos used to hang is still intact. The Bargers believed in keeping some of the history of the building, as guests will keenly notice. In the meantime, with the establishment of the new business, the Bargers are ready to embark on making their own history at the popular location that is just down the street and under the viaduct a little ways from Mount Pulaski High School.

A passion for exercise

For Danita Barger, opening a 24-hour gym is not just a new business venture, but it is also her dream becoming a reality and it involves her true passion in life - exercise.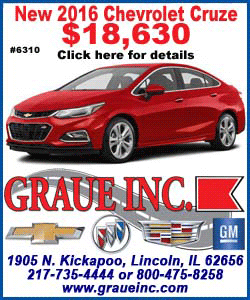 "When I was fifteen I started exercising regularly just on my own and loved it," said the 1993 graduate of Lincoln Community High School and current Mount Pulaski resident. "I started with Denise Austin. Do you remember her? That's who I started working out with because she had the shows on tv, basic cable or whatever it was at the time, or the local channels it might have been then," she recollects. "So I started doing her half-hour shows, "Buns and Thighs" and that kind of thing, you know, the girlie exercises," she laughed. "But I just loved it and I got my sisters to exercise with me, here and there, but they haven't stuck with it like I have, but I am always trying to motivate them to come and workout." Jody Bruce of Mount Pulaski and Tina York of Lincoln are Danita's sisters, whom she thinks plan on getting memberships at the new gym.

While her sisters may not share her passion for exercising, that did not discourage Danita. "I was always into fitness and wanting to do something in that route. It's just always been something I love to do. I love to help people and I love to see that transformation from someone who is not able to do anything, you know they are sitting on that couch doing nothing everyday, to being fit and eating right, taking care of themselves and just getting stronger. I just love all of it.

It's nice to build those relationships, too. I mean there's been certain people that I've taken different classes from over the years, different instructors, and one in particular that I had in Springfield, he was always like "I am not here to be your friend, I'm just here to be your trainer" kind of thing. But I feel like you have to have that relationship and you have to build on that and eventually you become friends with people. You care about them and you care about what happens to them. You want to see them grow and get better and get fitter. I just love it and I love teaching, Danita says.

The couple's 17 year-old daughter, Alyssa, is well aware of her mom's passion for fitness. "Growing up it was always like my mom would come home from work and then she'd go to the gym and she'd get home at like eight or nine. We would always be like "Why are you working out so much?" She can't go a day without it because she loves it so much. Every time you say anything about fitness, she always has advice or something to say. So being her daughter when you're trying to work out and she's standing there trying to tell you what to do, you're like, "Oh my gosh, Mom," but when I watch her teach other people you can just tell that she loves it. You can just see it in her face that she lights up when you say anything about fitness," said Alyssa, also beaming.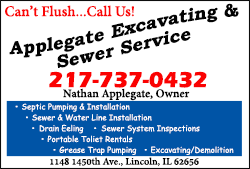 "So when we first started thinking about the gym I was like, "Go for it," but I am one of those people that thinks you should go for it if that's what you want," said the younger Barger, who will be a senior at Mount Pulaski High School this fall. Alyssa also noted how busy the family's life is, but thinks the gym fits right into that mix and adds to her mom's happiness. The wise beyond her years, senior captain of this year's cheerleading squad at MPHS, even said to her fitness fanatic mother, "Mom, I don't think I've ever seen you happier than you are at the gym." The teenager added, "She just wants everybody to come and have fun and she thinks it's like the best thing ever. Seeing her getting to do this really makes me happy," she said, smiling.

The road to making the dream a reality

Meanwhile Danita, who also works full-time as a financial crimes analyst for Wells Fargo in Springfield, a job she has held for the past twenty years, brings years of experience to the community of Mount Pulaski. Her teaching career in fitness began in Lincoln nearly a decade ago. "I started teaching at the karate school (PDI) in Lincoln in 2007," she said.

She was the kickboxing instructor there at the facility called Professional Development Institute or PDI on Limit Street. PDI was owned by Chris Sprague at the time and Danita taught there from 2007-2009. Even Alyssa earned her black belt in karate at PDI from instructor Steve Hayes.

Moving on from PDI, Danita set up her kickboxing bags at Fitness Balance on North Sangamon Street. She was an instructor there from 2009-2010.

In 2010 she moved on to the Lincoln Park District /Fit Zone on Primm Road where she would continue to reach success in her profession as a Group Fitness Instructor and Personal Trainer.

Crystal Thomas of Mount Pulaski took Danita's kickboxing and spin classes at the Rec and she was very impressed with the instructor, not to mention the positive results that Thomas has seen are crystal clear. "She is a very good instructor. She knows her fitness and will take you thru one of the best workouts. Just look at her and her body. She knows how to keep in shape." Thomas added, "She is very educated on fitness and what you need in order to be in great shape. I am looking forward to her opening in Mount Pulaski and taking her classes."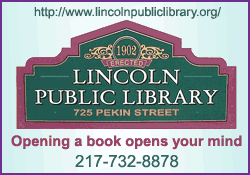 The road takes a right turn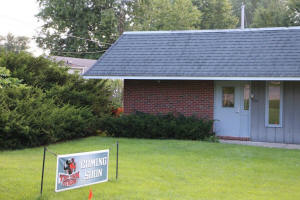 The Bargers moved from Lincoln to Mount Pulaski three years ago so Michael could be closer to his job in Decatur. According to Danita, the very first time she saw the building on Spring Street, she had her eye on it. "Basically from the time we moved out here three years ago, I saw the building was for sale, knew it had been for sale off and on the past few years and I told Michael from day one when I saw that it was for sale, I said, that would make a perfect place for a gym for the town." Danita continued, "I said that I would love to buy that place and turn it into a gym if ever we had the money to do that. I actually have a couple that I train that live out here in Mount Pulaski (Jim and Donalene DeWitt) that knew I had my eye on this place. We looked at it with Seth Goodman a couple times." All this had Danita thinking, "It seemed like it would be such an easy transition. It's a big open space and we could basically do whatever we wanted inside."

So she started writing the business plan for the bank and coming up with funds, which included some of her own 401K. "You know, I said I really want it and I was willing to try and use some of my retirement to help me purchase this so we could hopefully try and help the community. It's worth it to me if I can help people."

That journey to create True Form Fitness LLC began back on April 22, 2016, when the Bargers officially took possession of the property. Danita even shared a story about having lunch with Dean and Susan Collier at the Brickyard Pub and Grill and ending up spending hours just visiting with the couple who had previously owned the building for decades and poured a lifetime of love into the former dance studio. Now the Colliers would be turning the building over to another couple that was about to embark on the same journey.
Since April the Bargers have been working every day as much as possible on this project and pouring a lot of blood, sweat and tears into their dream.

Danita gives all the construction credit to her husband of twenty-two years, Michael, and her father-in-law, Robert Barger of Lincoln. The two men have been working tirelessly day and night to construct Danita's dream. Michael already works a full-time job at Ameren in Decatur, and he's already dropped twenty-plus pounds just helping his wife to see her dream become a reality. Along with his handyman father, Robert, Danita has dubbed the two men "Dream Builders," and even had that phrase printed on the backs of their new True Form Fitness T-shirts. Danita smiles while telling the story and adds, "Michael jokes all the time that he's busy building dreams."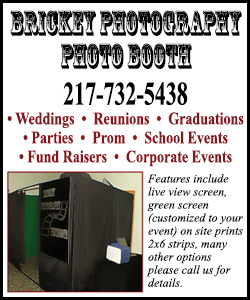 The name and logo take shape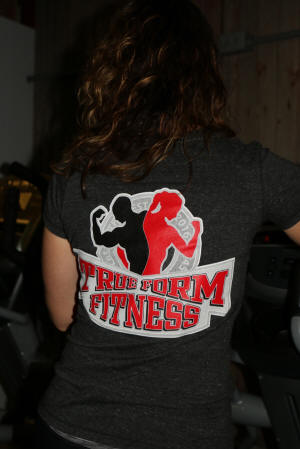 The reason behind the name, True Form Fitness LLC, is because, as Danita explains, "I've always, when I taught, I've always been one that very much focuses on form and how you're doing the exercise and making sure that you don't get injured. I am always in my classes saying, "Make sure you have your back straight, make sure your stomach is pulled in and make sure your shoulders are up," and that kind of thing. I know it sometimes drives people crazy but it's a very good reminder, even for me when I am exercising if I am repeating it and teaching the class, it reminds me also to keep my form where it needs to be. So I wanted something to do with that because that's kind of what I am about. So I came up with True Form Fitness for that reason."

Barger also searched online for ideas for logo designs and had a goal of wanting people to know that both men and women are welcome at the gym. "Which is why we have both the man and woman in the logo," she explained. "I wanted the woman to be more feminine because I know women get intimidated by weights and the weight room itself. But they need strength training. All women do, and it's going to help you burn more calories and it's going to help you keep that weight off longer and make you stronger. You need that for even everyday activities that you do. I made the logo a little more feminine, but yet strong I think on the woman's side, I want her to show muscle, but not too much. I don't want women to think that this is just for guys to come in and lift weights, 'cause it's not. I want it to be open for everybody."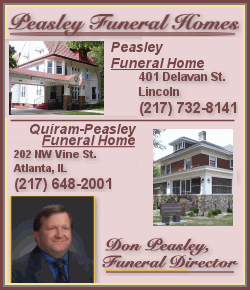 Local artist Scott Lindley also helped Danita and Michael finalize the logo and Lindley made the signs for the couple. "Scott just put it all together and we decided this is it." "Black and red are my favorite colors, always have been. When it comes to working out I believe in a strong woman." Danita also liked the color of the original beams in the building. "I just knew when we came in, we saw the beams were kind of a red color. I love rustic. And since we are in a farming community here in Central Illinois, the barn wood goes good, too." Barger said the woman who previously had a photography studio in the building had added the barn wood and a couple big barn doors to the building. "I didn't want to get rid of them because they are really cool pieces," she said.

For more of what the Bargers kept intact and have added, be sure and visit the Open House.

Staff, equipment and classes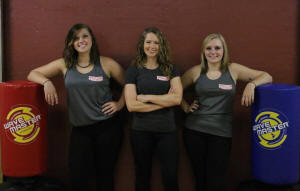 True Form Fitness LLC owner Danita Barger poses in the middle between her two Zumba instructors, daughter Alyssa Barger, left, and Stephanie Bailey, right.

Danita, who received her ACE Personal Training Certification in June, plans on being at True Form Fitness LLC for classes on Monday, Wednesday and Thursday evenings beginning at 5:30 p.m. She will also make arrangements for Saturday classes as well. Her plan for the next school year is to keep her Tuesday and Friday nights available for Alyssa's senior cheerleading season. She's a busy mom and grandmother, by the way, just making it all work.

Danita will offer kickboxing classes, senior classes and personal training, among other things.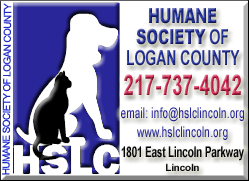 Meanwhile, Alyssa and Stephanie Bailey, are also on staff as Certified Zumba Instructors. When Alyssa asked her best friend about being a Zumba Instructor, Bailey did not hesitate. "I quickly said yes because I love the Zumba classes. I think us being instructors at the gym will really help people and it will be fun."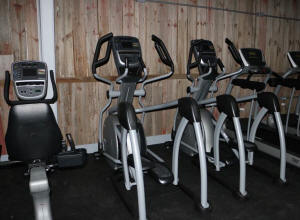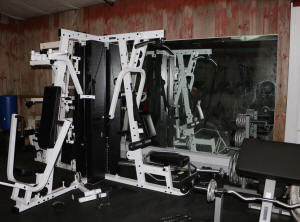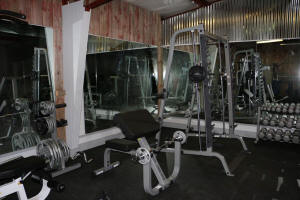 True Form Fitness LLC will also offer a variety of workout equipment ranging from treadmills, ellipticals, a recumbent bicycle, a rowing machine and even a spin bike, to various state-of-the art weight training machines. Wi-Fi will also be available in the building and the Bargers plan on installing televisions for guests to enjoy during their workouts.

"It's worth it to me if I can help people"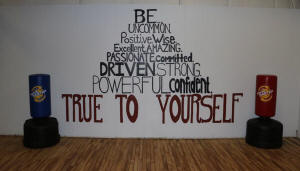 "I am hoping everybody can really enjoy it and I am hoping we can add on in the future because that's our goal," stated Danita. "We've already thought about how we can expand the building. If we get enough members, and we can continue it going in a positive way, then we are hopefully going to add on and add more equipment and more classes," Barger said.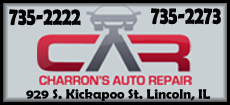 At the present time, Danita plans on being at the gym as much as possible but she still must keep her day job. No worries for the members, though, as security cameras will be on-site and if there is an issue she can be contacted immediately. Members will punch their own code to get into the building and have the flexibility of working out any time, day or night.

As far as working long hours, Danita is pretty much used to that and seems to enjoy it. "People are like, you know you go from your full-time job to this training thing or teaching classes," she said. "But it doesn't feel like work, you know, I enjoy it so much. I want to go and train people and I'd much rather be there all day long if I could, helping anybody that I could. It's just an awesome feeling to be able to help people. I love exercise so that's where my passion's always been. I love helping people in general but this is just where I feel like I am supposed to be."

Special note about signing up

Danita plans the official sign-up of memberships to take place on August 7, 8 and 9.

Memberships would be prorated for the first month. Prices have been set at $35 a month for a single membership with discounts for seniors, students and veterans.

Classes for members will be $2.00 per class while non-members can come and still enjoy a class for $3.00.

Danita also mentioned that there may be a drawing for some free memberships in the future and she will be allowing guests to try the first class for free.

[Teena Lowery]