Your Money: Shop your closets before hitting back-to-school sales
Send a link to a friend Share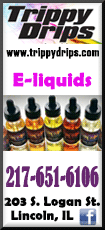 [August 05, 2016] By Beth Pinsker
NEW YORK(Reuters) - When Leticia Barr is ready to start back-to-school shopping, her first stop is going to be her own closets.

A former teacher turned blogger, Barr knows that her family probably has on hand much of what they need already - from last year's binders that are still good to stashes of pencil-top erasers. With her daughter about to start seventh grade and a son going into fifth in Washington, DC, Barr's goal is to keep a lid on spending by focusing only on what they do not already have.

The average family with kids in grades K-12 is forecast to spend an average of $673.57 this year, according to the National Retail Federation, much of that going toward clothing and electronics.

Reuters spoke with Barr, also known as Tech Savvy Mama to get her back-to-school shopping tips.

Q: With free, expedited shipping available from so many retailers, do you find that this has changed shopping patterns because families don't need to stock up so much?

A: It does take some of the pressure off. Some like to start the school year with their kids having everything they need. My kids are not growing quite as fast anymore, so they will get a couple of new t-shirts that are cute. But if things fit, they are fine with them. It's really important to assess what you already have.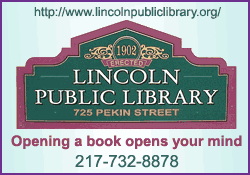 You can teach them that you don't need new things every year and that it's wasteful to throw things away. Then you can alleviate the financial stress and make kids great consumers too.

Q: How can social media help with the process?

A: Shop sites that cater to gently used clothes or use apps. In our community, it happens through the parent network, it's this informal thing we have going on. We also have a community organization close to our house that accepts clothes and household items.

Q: What about the bigger ticket items, like computers?

A: I encourage parents to look at what the kids are using at school. If it's Mac, get Mac; if it's Chromebook, get that.

I also tell parents: Don't buy the machine that's just right for now. Get the best you can because you want it to last a couple of years. And I do recommended extended warranties, if you can afford to do that.

Q: Does the advice change as kids get closer to college?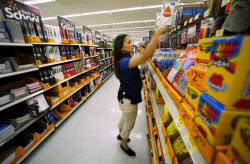 Walmart department manager Karren Gomes helps stock shelves with school supplies as the retail store prepare for back to school shoppers in San Diego, California August 6, 2015. REUTERS/Mike Blake
A: You want to look at machines you can upgrade. Buying memory is not all that expensive.

Q: With one kid in middle school and one close, where do you come in on the great cell phone debate?

A: Every family situation is different. Some get phones at much younger ages. They feel they need that lifeline, if they are carpooling or going on the bus.
In terms of what to get, it depends on your mobile carrier, and how much you are willing to spend. My daughter was joking with her friends about getting grandpa's flip phone. You could text, but you had to press the number button three times to get the letter you wanted.

I think most families pay from $30 to $80, and then the cost of the device. We ended up getting my daughter an unlocked phone and a cheap SIM card plan for under $20 a month. She gets a lot of texts and some data. She knows she can't watch videos on the bus - and she knows what the consequences are if she goes over her plan. When she's home, she has an old iPhone that's connected to wi-fi only and she texts through that.

Q: Does getting a cell phone for an older child lead parents to get one sooner for a younger child?

A: My son is 10 and we're not ready. Maybe next year it will be a possibility.

(Editing by Lauren Young and David Gregorio)
[© 2016 Thomson Reuters. All rights reserved.]
Copyright 2016 Reuters. All rights reserved. This material may not be published, broadcast, rewritten or redistributed.