Thirty People Receive Training in Mental Health First Aid Program
Send a link to a friend Share
[August 04, 2016] SPRINGFIELD – Thirty community members from four counties are being trained this week (Aug. 1-5) to learn how to identify and respond to people showing signs of mental illness and substance abuse.
The training is part of Mental Health First Aid (MHFA), an evidence-based program that offers a five-day intensive training session that will allow community members to become certified MHFA trainers. They, in turn, will train people in their communities in Sangamon, Logan, Morgan and Christian counties.

"We are thrilled to bring Mental Health First Aid to our communities in central Illinois," said Jan Gambach, president of Memorial Behavioral Health and administrator for behavioral health for Memorial Health System. "Most people know how to recognize and appropriately react to medical emergencies, but there is little knowledge in the general public about what to do in a mental health crisis."

The five-day training will take place Aug. 1-5 in the Memorial Center for Learning and Innovation and focuses on adult mental health. Those who complete that training can participate in additional training focusing on older children's mental health; that training will be offered Sept. 19-21.

[to top of second column]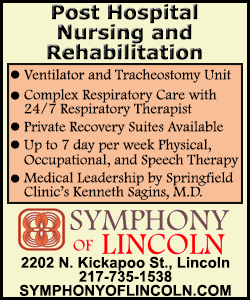 Memorial Health System is providing the funding to bring the nationally recognized program to central Illinois. Memorial Behavioral Health will work with local community groups to oversee implementation of the program in the four-county region.
Mental Health First Aid teaches signs of addictions and mental illnesses, a five-step action plan to assess a situation and help, the impact of mental and substance use disorders, and local resources and where to turn for help.

The people being trained include school officials, hospital personnel and social services personnel.
[Michael Leathers, MHS Public Relations]