Senior Health Fair provides free health services and more
Send a link to a friend Share
[August 04, 2016] On Friday morning, Illinois Senator Bill Brady and Representative Tim Butler hosted a health fair at the Oasis Senior Center in Lincoln. The fair vendors on hand were there to speak with visitors on topics of particular interest to the older citizens of Logan County.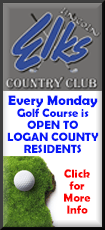 As they age, men and women both need to become more conscious of their health and well-being.

Among the vendors on hand, Abraham Lincoln Memorial Hospital was doing bone density testing. Bone density can decrease during the aging process. Density can also be impacted if a person is a smoker, or if a female is post-menopausal.

The hospital also offered information on diabetes, and the diabetes support group held at ALMH at regular intervals.

Walgreens was also on hand with blood pressure screenings.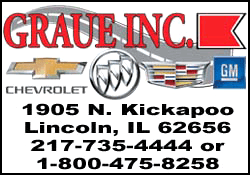 The State of Illinois was well represented with folks there from the Illinois I-Cash program, the Secretary of State License Division, the State Comptrollerís Office and the Office of the Attorney General. At the license bureau table, the representative shared with visitors the new Illinois distribution of Driverís License renewals. For those who may not know, when you go next time to renew your driverís license you will be given a temporary license, and your new permanent one will be sent to you in the mail within about 15 days.

The representative also recommended that even though a person may have a valid Driverís License, one should also have an Illinois Identification Card. He explained that it makes an excellent second source of photo I.D., and once issued it never expires. The I.D. is also free to persons over age 65.

Others on hand for the health fair included AARP, the Area Agency on Aging for Lincolnland, and the Illinois Department of Veteran Affairs.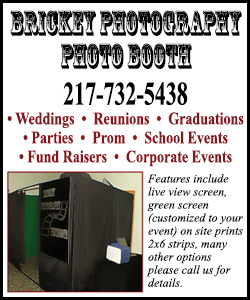 Members of the Lincoln College String Ensemble were set up on the small stage area at the center with chairs for guests to sit and listen to the music while enjoying a cookie or a cup of coffee.
The Humane Society of Logan County had a display set up inside the Oasis and had brought several kittens that were enjoying the fresh air and coolness of the day outside on the Oasis patio. The HSLC has several kittens available right now, and the half-dozen or more at the Oasis were hoping to become the loving pet to a senior before the day ended.

The Community Action Partnership of Central Illinois had brought out one of the Logan Mason Public Transportation buses and invited folks to step inside to take a look at how accommodating the buses are for those with disabilities or just those who prefer not to drive to locations in Lincoln.

Throughout the morning, Brady and Butler were on hand, speaking with guests one-on-one and asking about their concerns as seniors in this part of the state.

It was a busy morning with several folks coming out to take advantage of all that was offered.

[Nila Smith]