Lincoln State School & Colony will be topic at Historic Society August meeting
Send a link to a friend Share
[August 12, 2016] LINCOLN - The August meeting of the Logan County Genealogical & Historical Society will be 6:30 p.m. on Monday, August 15 at the LCGHS Center, 114 North Chicago St., Lincoln.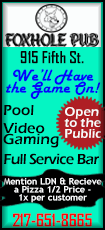 The guest speaker will be Bob Gephart, a longtime employee of Lincoln Developmental Center, formerly known as Lincoln State School & Colony and now researcher/historian on the subject.

Former employees of LDC are especially invited to attend. The meeting will be open to everyone to share memories, pictures, or other items associated with the facility.

The Center receives many inquiries from families who had relatives that lived there. Any new information we can learn concerning the facility will be greatly appreciated. There are artifacts at the Center to view which former employees could also see

As always everyone is welcome to attend.
[Logan County Genealogical & Historical Society]