Girls on the Run of Central Illinois opens registration for fall program
Families can register their girl now for the healthy lifestyle and self-confidence program


Send a link to a friend Share
[August 23, 2016] SPRINGFIELD - Girls on the Run of Central Illinois will kick off the 2016 fall program session with 30 teams at local schools and community program sites. Registration for the 10-week program is now open and available through the Girls on the Run website. Two new schools are partnering with Girls on the Run to offer the program for the first time this fall: Illini Central Grade School in Mason City, and Raymond Grade School in Raymond. Families can register their girls online at www.GOTRcentralillinois.org.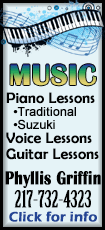 More than 375 girls in third through eighth grades are estimated to participate this season in the life-skills program. This season, Girls on the Run of Central Illinois will also register their 6,500th girl since the program began in 2004. The sessions will run for 10 weeks beginning September 5 at 25 local schools and community sites throughout central Illinois. Girls will benefit from our community locations hosting the program that are open to all girls: Decatur Family YMCA, Downtown Springfield YMCA, and Southwind Park. A full list of participating locations is included below.

"We are excited to bring our program to new communities this fall and hope to engage girls and their families with our positive lifestyle program," said Jennifer Sublett, executive director of Girls on the Run of Central Illinois. "The physical activity and healthy lifestyle focus of our program will reach the girls who participate in the program, as well as their families and our volunteer coaches."

The Girls on the Run program uses an experience-based curriculum which integrates running to inspire girls to be joyful, healthy and confident. The interactive curriculum is fun and challenging, covering meaningful topics such as self-awareness, building healthy relationships, and developing personal strengths while engaging in physical activities. The curriculum also includes lessons specifically devoted to a community service project completed by each team, as well as a fun, non-competitive 5k run open to the community at the end of the 10-week season. The fall 2016 5k will be held on Saturday, November 5th at 10 a.m. at Lincoln Land Community College in Springfield, and is open to the entire community.
To learn more about the program, how to volunteer or to register for the community 5k, visit www.GOTRcentralillinois.org. You do not have to be a runner to get involved. Girls on the Run needs program coaches, committee members and 5k volunteers. Please contact us at 217-726-9808 to discuss which role will best fit your skills, talents and schedule.
Locally, groups are located at:
Girls on the Run (3rd-5th grade)

Chester East Lincoln - Tuesdays & Thursdays - 3:30 - 4:40pm
Heart & Sole (6th-8th grade)
Carroll Catholic School - dates and times TBD
New Holland-Middletown - Tuesdays & Thursdays - 3:30 - 4:45pm
[Jennifer Sublett]