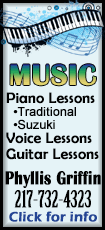 The idea to hold the fundraiser came from member Steve Goodman Jr. with the entire Young Leaders group working together to make it a successful outing.

On July 1st, the group had recruited 49 sponsors for the event, and 22 teams signed up to participate. The weather that day was good, and the Elks Golf Course in Lincoln was an ideal location for the event.

At the end of the fundraiser, the Young Leaders were pleased to be able to present to the local food pantry a check for $8,567.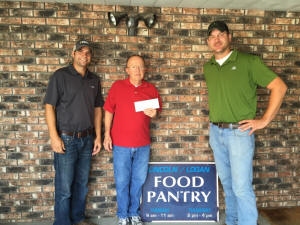 This week, the check was hand delivered to the food pantry by Eli Klokkenga and Matt Wrage and accepted by Norman Newhouse on behalf of the pantry.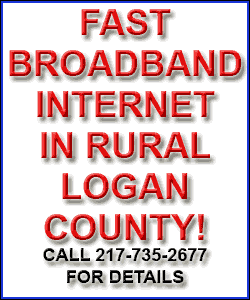 The demand for services by local food pantries continues to grow in Logan County. In 2015, the Lincoln Logan Food Pantry served an average of 539 families per month, with nearly 2,000 people being impacted within those families. This past month, July 2016, the pantry served a total of 610 families, nearly a 14 percent increase over the year prior.

Food Pantry president Bill Overton provided the following information about the Lincoln Logan County Food Pantry:
The Lincoln-Logan Food Pantry was opened on June 1, 1993, when several churches and small pantries joined together to offer one larger, more efficient pantry.
At first, it operated out of the basement of the First United Methodist Church, but it didn't take long before it was moved to the First United Methodist Church's property where it is currently located at 125 North Logan Street in Lincoln.
A mission statement established direction: Assisting those in need in Logan County by furnishing items to help maintain their nutrition and hygiene.

The Pantry is incorporated as a not for profit 501 (c) 3 entity and is contractually affiliated with the Central Illinois Foodbank in Springfield, Illinois.

In that affiliation, the Pantry follows federal service guidelines. For example, a customer must be a resident of Logan County and, for one person, must have a gross monthly income of $1,815, or less.

New standards will replace the old each July 1st. The $1,815 is 185% of the poverty level.

The reason the Pantry has to follow federal guidelines is because each month the Pantry receives USDA commodities.
As an example, this month (June, 2016), the Pantry received: dried cherries, grapefruit juice, cranberry juice, chicken leg quarters, canned beef stew, fresh apples and fresh potatoes.

Regarding the numbers of people the Pantry serves.

In 2015, the Pantry served an average of 539 families each month. In those families, there was an average of 1997 people. This is in Logan County, which has a population less than 30,000 people.

The Pantry is set-up like a small store in which the customers, who may come once a month, select the food and hygiene items they'd like.
The Pantry has been a leader as a total choice pantry for many years. A family shops with a grocery cart and the amount it receives is based on the family's size.
After signing in, a family is able to receive meat items, dairy and cold meats, canned vegetables, canned soup, canned fruit, cereal, various boxed and other canned foods, desserts, bread and baked goods and personal items.
Often a family will be able to receive extra food items including fresh fruit or vegetables, bake goods and so on.
So, where do we get the food?
The Food Pantry receives a large amount of food and personal items from the Central Illinois Foodbank in Springfield. Each month, the Pantry receives USDA commodities, at no cost, through the Foodbank.
In addition, the food and personal items are purchased from the Foodbank at $ 0.19 a lb.
For every dollar donated to the Pantry, just over 5 pounds of food and personal items can be purchased.
In 2016, the Pantry expects to receive over 270,000 lbs. from the Foodbank. Food also will be purchased from local stores.
Donations also will be received from businesses, churches, groups, schools, private individuals, etc.
Logan County is a very giving group of people, as can be seen.
If a donor is deciding whether to donate food or money, the Pantry is able to purchase the food it needs for $ 0.19 a lb. from the Foodbank.

Generally, the Pantry is open 10 days a month,
Tuesday 9 a.m. to 11 a.m.
Thursday 2 p.m. to 4 p.m.
For seniors and persons with disabilities,
the 2nd Wednesday from 2 p.m. to 4 p.m. is exclusively for them.
All workers at the Pantry are volunteers, no one is paid for their time. The entire operation of the Pantry relies on funding by donation.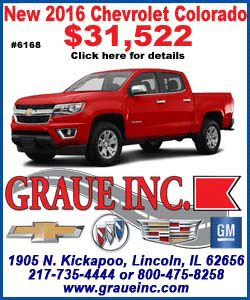 If someone is interested in volunteering, they are asked to come at least 15 minutes before time to open.

Potential customers are invited to come in and register.

You should know that you can help a family through a proxy program in which you would come to the Pantry and pick-up food for someone unable to come in.

The Pantry believes in preserving the dignity of all people, so registration is simple and only requires a form of identification, typically a driver's license.
Bill Overton, President
Lincoln-Logan Food Pantry
6/29/2016
[Matt Wrage, Logan County Farm Bureau Young Leaders]