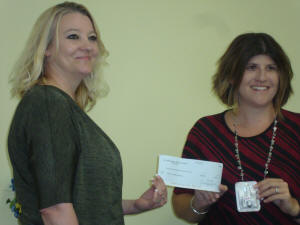 St. John United Church of Christ presents second check to Logan County Department of Public Health for Narcan Kits
Send a link to a friend Share
[August 23, 2016] LINCOLN - This week Cathy Sanders presented a check on behalf of St. John United Church of Christ to the Logan County Department of Public Health. The check was accepted by Kara Davis of the Health Department and will be used to purchase Narcan Kits for local first responders.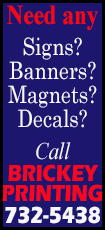 The church has held a wide variety of fundraisers in order to purchase these kits, that are proven to be life-saving when victims are involved in Heroin overdose.

Sanders hosted a Vendor Fair and Craft Show recently with a number of local home-based business people setting up stands, and selling their products with percentages of the proceeds going back to the fundraiser.

The following name brands were among those who participated in the Vendor Fair: Avon, Celebrating HOME, Darlene's Tupperware, It Works!, Love What you Do!, LuLu Roe, Paparazzi, Pink Zebra, Stella & Dot, and Thirty-one

Re-New Thrift and Consignment Shop in Lincoln is also selling specially marked merchandise with a percentage being given to the fundraising efforts. Anyone who wishes to donate clothing or other gently used items to Re-0New and designate the sale to go toward the fundraiser is invited to do so.

St. John began the fundraising efforts for Narcan in February.

Here is a list of the fundraisers held thus far, and the dollars raised:

St. John United Church of Christ February 21, 2016
February 21 - Culver's Fundraiser /Outreach - $307.31
February 21 - donations at Culver's - $25.00
March 13 - St. John UCC Potato Bar - $229.00
March 20 - "Save a Life" donaton - $160.00
April - Rotary Fundraiser at IGA - $290.00
May 15 - Bake Sale & 50/50 - $253.70
May 15 - Logan Lanes Bowling Fundraiser - $50.00
May 18 - "Save A Life" donation - $50.00
April-July - ReNew Thrift & Consignment - $301.00
July 30 - Craft & Vendor Show - $479.00
The next Narcan fundraiser will be on Sunday August 21st at Culver's Restaurant from 5 p.m. to 8 p.m.
There will also be a fundraiser at Re-New Thrift and Consignment throughout the month of October.
Anyone wishing to donate gently used items to the Narcan Sale may do so by specifying the items are for Narcan when taking them into the shop.
Items sold for Narcan will result in a percentage of the total receipt being set aside for the fundraiser.

Re-New is located at 201 South Sangamon Street in Lincoln. Store hours are Monday through Thursday 10 a.m. to 5 p.m., Friday 10 a.m. to 6:30, and Saturday 10 a.m. to 4 pm. Closed on Sunday.

Questions about the Re-New fundraiser can be addressed to stor manager Bobbi Reddix or Jen at the story by dropping in or calling 217-605-0495

Questions about other Narcan fundraisers by St. John may be directed to Tonit Reifsteck, Fundraiser Chairperson at 217-855-1645.
[Tonita Reifsteck]