Emden Run/Walk supports finding ALS cure one step at a time
Send a link to a friend Share
[August 23, 2016] EMDEN - Though a threat of rain kept some away, the sun came out about the time racers lined up for the Fifth Annual ALS Run/Walk on Saturday, August 20. This year 357 participants were registered for the race.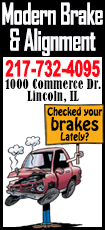 As the ALS 5K awareness site says, ALS or Amyotrophic Lateral Sclerosis, sometimes referred to as Lou Gehrig's disease, is "a progressive neurodegenerative disease that affects nerve cells in the brain and the spinal cord." Though it does not affect the mind, the patients are eventually paralyzed and often only survive three to five years after diagnosis. There is no cure for ALS and according to the ALS Association, the disease affects as many as 30,000 Americans at any given time.

Events like the run/walk help raise both awareness and funds for research. The Les Turner Foundation, which receives some of the funds from the event, is a leading researcher of ALS.

Several Logan County residents have lost their lives to the disease, and many of their family members participate in the event as a way to honor their memory.
Former Emden resident Dale Olson died from ALS in July 2016, so the event has even more significance for some this year. Olson was just diagnosed in 2015 and was able to participate in last year's event.

The event brings out people from around the county and between race participants and supporters who cheer on the racers, bid on auction items, or join in the afternoon bags tournament, the number adds up to more than the population of Emden. It is also an event for all ages, with the race participants between eight months old and over eighty years old.

A record was broken again this year, as Jesse Golden came in at 17 minutes 13 seconds, beating last year's record of just over 18 minutes.

Once the morning race ended, events continued throughout the day with a silent auction, 50/50 drawing, raffle, poker run, and bags tournament.
Longtime Emden resident Lulabelle Barry has participated as a walker in the race the last few years. Barry said, "It is a worthwhile cause. I wish they could find a cure for ALS. It has hit several in the community."

Jim Lindgren attends church in Emden and knows the Lessen family and has seen how the disease affects families. Alan Lessen died of ALS many years ago and his family has helped organize the event since the beginning. Lindgren, one of the top runners in the 60 and over category, said, " I am glad I can still do it."

The event raised almost $85,000 in its first four years with the support of Emden and nearby communities. With the number of people involved each year, the amount of funds raised continues to increase, and the financial support helps fund research that will hopefully bring researchers closer to someday finding a cure for this devastating disease.

[Angela Reiners]