Buck's Dynas'Tea'; a not so dainty evening for men planned for September 9th
Proceeds to benefit Harvest of Talents
Send a link to a friend Share
[August 23, 2016] LINCOLN - The Harvest of Talents for World Hunger has announced the creation of a new annual men's event to be added to its list of offerings to raise funds to feed the world's hungry people. The event called BUCK'S DYNAS'TEA' is in response to requests from men of the community for something "just for the guys" in keeping with the annual Spring for Tea, hosted annual by the Harvest of Talents for women of the community.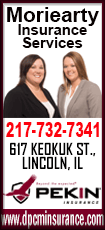 BUCK'S DYNAS'TEA' is named in honor of Buck Snyder, long time member of the Harvest of Talents Ministry Team (who passed away last summer). The event is being lauded as "an event catered to men who enjoy more than tea" and is for MEN; husbands, sons, fathers, bosses, co-workers and best buds! It will offer a perfect setting for an inter-generational gathering of grandfathers, sons, and their sons.

Barry and Julie King, hosts, promise an evening "rich in fellowship, stories, and, of course, hearty food". Local hunters have promised wild game which will be prepared with the most tried and true recipes. Final course of the meal will be a selection of homemade pies and cakes.

Setting for the event will be Rooms 15/16 of the Fellowship Center of Lincoln Christian Church, on Friday evening, September 9, from 6 until 7:30 p.m. While still in the planning stages, the Harvest event plans to offer games and entertainment and will be totally geared to the likes and tastes of male members of the community.
Seating for the first-time event will be limited to 80 men and boys. Tickets are now available in the Church Office through Monday, August 29, or until they are sold out.

All proceeds from the men's 'Tea' will become a part of the 2016 Harvest of Talents for World Hunger and will be channeled through International Disaster Emergency Service to meet hunger needs worldwide.

Questions may be directed to Julie King at 217-314-9413.
[Patricia Snyder]