46th Annual Abraham Lincoln National Railsplitting Festival in Lincoln, September 17-18, 2016

Send a link to a friend Share
[August 23, 2016] LINCOLN - This yearís Abraham Lincoln National Railsplitting Festival will be held at new locations in Lincoln, Illinois, all of which are located on Historic Route 66 Ė Postville Courthouse State Historic Site, Postville Park and The Mill.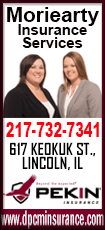 The event is a celebration of the pioneer days that influenced Abraham Lincolnís early life, including his time as a lawyer on the 8th Judicial Circuit. Opening ceremonies begin Saturday, September 17th at 9am.

Traditional Saturday festival activities include the Women's Firewood Split, Log Rolling Contest, Cross Cut Saw Competition, Antique Tractor Games, Team Railsplitting Contest, Jr. Railsplitting Contest and the Amateur Railsplitting Contest - all at Postville Park, located at 5th and Washington Streets (Route 66).

Salt Creek ABATE Motorcycle Club, Route 66 Heritage Foundation of Logan County and the Illinois Route 66 Scenic Byway will be hosting a new Motorcycle Show event on Saturday from 11am to 3pm at The Mill on 66. The cruise-in is being held in conjunction with the Railsplitting Festival and the 90th Anniversary of Route 66 (1926-2016). All statewide ABATE club members are invited as well as all motorcyclists. There will be Peopleís Choice awards, live music and hot pizza for the event. A suggested donation for motorcyclists and attendees will go towards the Mill. Salt Creek ABATE volunteers have also done a lot of critical work at the Mill. The Mill is in the final phase of renovation, with plans to open as a museum in April of 2017.

Sunday Railsplitting festival activities include a Community Church Service, the Dean Tibbs Tomahawk Throw, the Ray Begolka Corn Shelling Contest, a Stick Horse Rodeo, Water Boil Contest, Outhouse Races, Trick Riding & Drill Team by Rita Coleman, the Re-Christening of the City Lincoln at 3pm and the National Railsplitting Contest at 3:15pm.
Live Bluegrass music will be featured all day Saturday and Sunday at Postville Courthouse located at 914 5th Street.

The roots of the Railsplitting Festival began in 1970 at Jerry's Drive-In on Woodlawn Road, Lincoln, IL. Daris Knauer met with the co-chairman of tourism of the Lincoln Chamber of Commerce, LeRoy Buckheit. LeRoy was "flipping burgers" in his restaurant as they talked about an event, because there was a busload of people in the restaurant. Daris had an idea about holding an event that was related to Abraham Lincolnís days in Logan County. LeRoy mentioned that they should name the event the "Railsplitter" because Abe Lincoln was known for splitting rails. The Lincoln Chamber of Commerce sponsored the first and second Railsplitting events.
[Geoff Ladd, Project Administrator, Illinois Route 66 Scenic Byway]