Lincoln Daily News
welcomes letters of appreciation, information and opinion on matters pertaining to the community.
As a community we need to be able to talk openly about matters that affect the quality of our lives. The most effective and least offensive manner to get your point across is to stick to the issue and refrain from commenting on another person's opinion. Letters that deviate from focusing on the issue may be rejected or edited and marked as such.
You may also send your letters by email to ldneditor@lincolndailynews.com
or by U.S. postal mail:
Letters to the Editor
Lincoln Daily News
601 Keokuk St.
Lincoln, IL 62656
Letters must include the writer's name, telephone number, and postal address or email address (we will not publish address or phone number information). Lincoln Daily News reserves the right to edit letters to reduce their size or to correct obvious errors. Lincoln Daily News reserves the right to reject any letter for any reason. Lincoln Daily News will publish as many acceptable letters as space allows.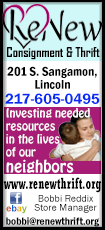 To the editor:

When the state budget stalemate is finally resolved, we must unite behind one message: Never again can we let students become collateral damage in political fights.

It may sound like a cliché to say that our children are our future. But in the case of higher education, it is quite literally true. If we do not tend to the education of the next generation, we have no future. The blunt economic facts of higher education bear that out.

A federal National Center for Education Statistics study found the median earnings for young adults aged 25 to 34 with a bachelor's degree is $48,500 -- $18,000 more than those with a high school diploma, and more than double what those who do not graduate from high school earn.

The students need the opportunity of our campuses. We need their tax dollars spreading in our local and state economies. They fuel our economic centers, providing and supporting jobs and creating opportunities for all Illinoisans.


The higher education funding stalemate is much more costly than lost opportunities. Data shows high school graduates under age 25 are three times more likely to be unemployed than their college educated peers – a trend that follows them throughout their lives. Taxpayers pay unemployment costs: the Congressional Budget Office conservatively puts those costs at a staggering more than half a trillion dollars over the past five years.

Colleges have had to adapt to the reality that graduation is a tenuous proposition. Completion rates are declining. Any interruption of the college education can doom the completion chances, particularly for lower-income, working students supported by the state's Monetary Award Program grant funding.

For more than 150 years, Lincoln College has focused on these students. The institution was founded to provide a college education to central Illinois students whose parents could not send them across the country to East Coast schools. Today, we continue to serve those students and others seeking an affordable opportunity to go to college.
A sustainable MAP program is vital to Lincoln College's success, as we move to becoming a university with many exciting four-year and advanced degree programs and offer a more complete educational experience. About 80 percent of our full-time students, and two-thirds of all of our students, qualify for MAP grants. MAP funding is an important safety net shoring up the connection between our educational offerings and many of our students.
The MAP crisis is hitting our campus this semester, as we have had to make the painful decision to cut by 40 percent the MAP grant funding we have to date covered for our students. We will restore the MAP grants to full funding here as soon as there is a budget resolution, because we know the difficult situation this will create for many of our students and their families.

We cannot minimize the impact on older students, a key part of the educational mission at Lincoln College through the successful and growing Accelerated Bridge to Education (ABE) program. These older students ABE is geared for –students taking classes while in the workforce to advance their careers – are the ones hit hardest, as the largest decline in student enrollment in a college completion survey last fall was among students age 25 and older. We do all we can to help these adult students, but juggling family, career and an uncertain future at school can simply be too much.

Illinois cannot succeed without a well-educated, talented, motivated and successful influx of college graduates each and every year. Most students only get one chance to go to college. Anyone who has reached adulthood knows how fleeting time and opportunity can be.

Forcing students to put their education on hold while politicians do battle in Springfield isn't an opportunity delayed, it can be an opportunity denied – with costly consequences for everyone in Illinois.

David Gerlach, Ph.D
President, Lincoln College
Lincoln
[Posted February 4, 2016]