ALMH to provide Diabetes Classes in Mason City
Send a link to a friend Share
[August 23, 2016] LINCOLN/MASON CITY - If you have diabetes and are looking to lead a healthier lifestyle Abraham Lincoln Memorial Hospital is bringing a popular class, covered by insurance, to Mason City.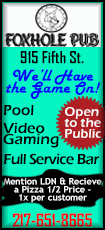 This September ALMH will facilitate four, two-hour classes on Wednesdays at the newly renovated Mason City Area Nursing Home located at 520 North Price St, Mason City.

Memorial Diabetes Services at ALMH is a nationally accredited program by the American Association of Diabetes Educators (AADE), providing core standard diabetes education and promoting the AADE 7 Self-Care Behaviors. Diabetes Self Management Education (DSME) has been taught at ALMH since 2009 by registered dietitian and certified diabetes educator, Jennifer DiPasquale. Sarah Tierney, a nurse diabetes educator, joined the DSME program staff in spring 2016.

The Wednesday afternoon classes will take place from 1pm to 3:15pm on September 7, 14, 21 and 28. Follow-up DSME and individual or group Medical Nutrition Therapy (MNT or diet counseling) is encouraged after completing the classes to assist in meeting the changing needs of long-term diabetes management. Both services are proven to decrease complications of diabetes.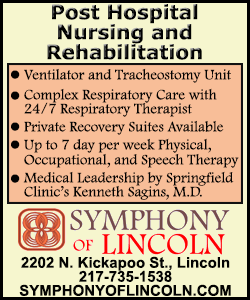 Because of the programís structure, a limited number of participants can enroll for each session. To participate, an initial DSME assessment must be completed at ALMH and a physicianís order for DSME must be faxed to 217-732-3101. Individuals should contact DiPasquale by email at ALMHdiabetes@mhsil.com or by calling 217-605-5500 if they have any questions.

ALMH is a 25-bed critical access hospital located at 200 Stahlhut Drive in Lincoln. For more information, visit ALMH.org.
[Angela Stoltzenburg, Abraham Lincoln Memorial Hospital]