Service: At a later date
Funeral home: Fricke-Calvert-Schrader, Lincoln
Obituary
Paula Steen Johnson, age 71, died on August 22, 2016 at Memorial Medical Center in Springfield. Paula is survived by her daughter Jennifer "Jamie" (Gerry) Valle of Richmond, CA, sister Sherilyn Marie Meiners of Anchor, brothers Leonard Paul Steen and Laurence Phillip Steen, both of Rock Falls, and beloved feline companion, Lunatic (aka Luna). She was preceded in death by her parents; one brother, Charles Steen, and one sister Karen Steen Cogswell.

Paula was born on March 28, 1945 to Paul Oscar Steen and Eva Hockenjos Steen in Salinas, California. She lived much of her life in Emden before attending college at University of Illinois, Champaign-Urbana. Paula married Roger Laverne Johnson on June 12, 1966. She earned a Doctor of Veterinary Medicine in 1967. She went on to work in a veterinary clinic in Monticello. Their only daughter, Jennifer, was born in 1972. Paula moved with her family to Solana Beach, California in 1977 and she soon opened her own veterinary practice there which she ran for over 20 years.

Paula returned to Illinois to care for her father in 2004. Following his passing, she was semi-retired and worked and lived in Lincoln, before fully retiring in 2011.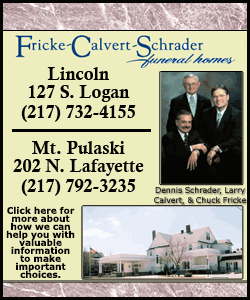 Paula loved animals, sewing and quilting, and reading books. She will be missed by many who loved her.

The family would like to extend a very special thank you to Viki George who was both a good friend to Paula and who took excellent care of her in her final years.

Cremation rites will be accorded and a service will be held on a later date.

Memorial donations may be made in Paulaís name to the donorís favorite humane society or animal rescue organization.

Services have been entrusted to Fricke-Calvert-Schrader Funeral Home, Lincoln.
Click here to send a note of condolence to the family of Paula Steen Johnson