Service: Private family service at a later date.
Funeral home: Fricke-Calvert-Schrader, Mount Pulaski
Obituary
Hatcil W. (Buss) Lamar, 87, died Friday, August 19, 2016 at the Vonderlieth Living Center following a short stay there.

He leaves his wife of 65 years, Leota (Hahn) Lamar; his son and best friend, Gary Lamar and his wife, Jana of Decatur, his daughter, Shirley Hughes and her husband Randy of Brazil, IN; four grandchildren - David Hughes (Stephanie) Brazil, IN; Deanna Hughes (Chad Clark) Terre Haute, IN; Darcy (Kel) Szajko and Lindsey (Kaleb) Swarts, all of Decatur, ten great-grandchildren, his sister Joann Pazder, and many nieces and nephews.

He was preceded in death by his parents; three brothers, Bud, Blue and Loel Lamar; three sisters , Bernice Ellison, Beatrice Hamblen-Schimmel, and Ruth Smith.

Born and raised in Chestnut, the son of Daniel and Ida (Beard) Lamar, he had been a resident of Mount Pulaski all of his adult life.

In 1950, he joined the United States Army and fought in the Korean War. While on a brief furlough, he returned and married his sweetheart, Leota Hahn on April 14, 1951 in Lincoln.

After serving his country, Buss returned to work with Koehler Construction in Mount Pulaski. He built many homes and buildings in and around Mount Pulaski including the home he built himself, for his family of four in the fall of 1959 to spring 1960. He resided there until going to Vonderlieth in June, 2016.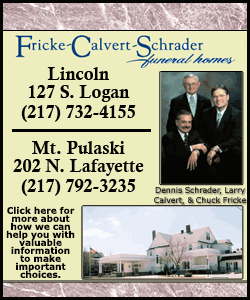 In January 1966 he started working at Caterpillar in Decatur, until he retired June 30, 1990. After he retired, he and his son, Gary, took snowmobiling trips and fishing trips around the country. They spent many hours together restoring their John Deere tractors. He was a member of the Central Illinois Two-Cylinder Club.

Buss was a member of Mount Pulaski Christian Church since 1963 and had served on the church board as well as being an elder for many years.

At his request, cremation is to be handled by Fricke-Calvert-Schrader Funeral Home with a private, family graveside service to follow at a later date.

Click here to send a note of condolence to the family of Hatcil W. (Buss) Lamar