Visitation: Tuesday, August 23, from 4 p.m. to 7 p.m. at Fricke-Calvert-Schrader, Lincoln
Service: 10 a.m. Wednesday, August 24, 2016 at the funeral home
Funeral home: Fricke-Calvert-Schrader, Lincoln
Obituary
Duane S. Dexter, 63, of Lincoln passed away at 8:37 a.m. August 18, 2016 at his home.

Duane was born April 29, 1953 in Anna, the son of Ralph and Bettie Copeland Dexter (Spitze). He married Brenda Schachtele March 2, 1974 in Lincoln. She survives in Lincoln.

Duane is also survived by his children: Shelley (Jon) Dexter-Thomas; Andy (Mandee) Dexter; and Derek Dexter, all of Lincoln; one sister: Glenda Jean (Phillip) Dexter- Brown; and four grandchildren: Brooklyn Thomas, Brayden Thomas, Brileigh Thomas and Drew Dexter; He was preceded in death by his parents; step-father: Elmer Spitze; brother: Ben Dexter and infant son, Matthew.

Duane is retired from Caterpillar Tractor Co. He was of the Christian faith; a member of Logan County Quail and Upland Game Alliance and the Sportsmenís Club, he was an avid Cardinal Fan. He enjoyed working on the farm, fishing, and hunting, but most of all; he loved nothing more than spending time and being paw paw to his grandchildren.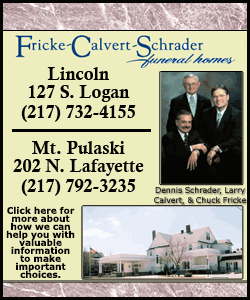 Services for Duane will be 10:00 a.m. Wednesday, August 24, 2016 at Fricke-Calvert-Schrader Funeral Home, Lincoln with Ron Otto officiating. Burial will be in New Union Cemetery. Visitation will be Tuesday, August 23, from 4:00-7:00 p.m.

Memorials may be given in his name to Logan County Quail and Upland Game Alliance, Lincoln City Fire Department, or Carroll Catholic School.
Click here to send a note of condolence to the family of Duane S. Dexter