Balanced Bulls topple Cavs
Send a link to a friend Share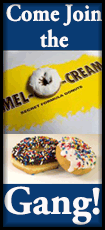 [December 03, 2016] CHICAGO -- Even before he stepped on the floor Friday night, Dwyane Wade acknowledged he will never consider facing a LeBron James-led team an ordinary competitive experience.

So when the veteran Chicago Bulls guard squared off with the former teammate he won two NBA championships with in Miami, Wade made certain his current teammates understood the importance of the task at hand.

By the looks of it, they got the message loud and clear.

Jimmy Butler scored 26 points, Wade had 24 and Taj Gibson finished with 23 as the Bulls used a balanced scoring attack to beat the defending NBA champion Cleveland Cavaliers 111-105 at the United Center.

The Bulls, who were looking to rebound from a disappointing loss to the Los Angeles Lakers on Wednesday night, put together an emphatic effort while sending the Cavaliers to their third straight loss.

"We got a chance to redeem ourselves," Butler said. "(It was) a big win. Everybody played extremely well. We played together and we beat a really good team."

Chicago's collective effort was a big reason why.

Gibson hit on 10 of 13 shots from the field for the Bulls (11-7), whose starters all reached double figures. Chicago also got a triple-double from Rajon Rondo, who had 15 points, 12 assists and 11 rebounds. Center Robin Lopez rounded out the strong effort from Chicago's starters with 10 points.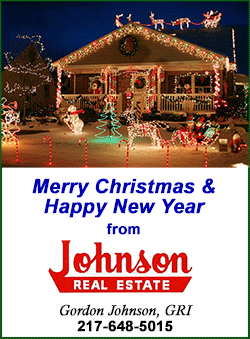 As opposed to the loss to the Lakers when the Bulls were slow and sluggish and had no rhythm, Chicago withstood an early surge of energy from the Cavaliers, who were looking to snap a two-game winning streak after starting the season by winning 13 of their first 15 games.

"Those guys were on a mission over there," Bulls coach Fred Hoiberg said of Cleveland's early surge.

After falling behind early and trailing by a point at the half, the Bulls outscored the Cavaliers by nine in the third quarter before holding off Cleveland down the stretch.

Wade beat James on a driving layup to extend Chicago's lead to 107-101 with 2:30 remaining after the Cavaliers had gotten within three. Wade grabbed an offensive rebound of a Nikola Mirotic 3-point attempt to seemingly put the game out of reach.

But Irving scored on back-to-back baskets in the final 20 seconds to draw the Cavaliers within 109-105 before Butler hit two free throws with 6.9 seconds remaining to cap the win.

"Tonight, it was all about finding a way to win," Wade said. "There were no egos involved at all and just a total team effort. It's a just good way to win no matter who you're playing. The way that we played is the way we want to play to win."

But on Friday night, who the Bulls were playing did make a difference.

[to top of second column]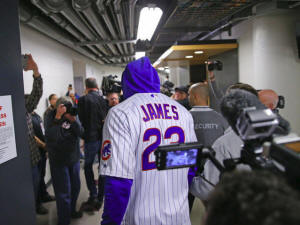 Cavaliers forward LeBron James (23) enters the United Center wearing a Chicago Cubs uniform in response to losing a bet on the World Series to Chicago Bulls guard Dwyane Wade (not pictured). Mandatory Credit: Dennis Wierzbicki-USA TODAY Sports
"It's a different game when you're going up against a team like that," Butler said. "It brings out the best in everybody."

Gibson added, "I know that's a talented team. Over the years, LeBron has come in this building and embarrassed us."

James scored a game-high 27 points for the Cavaliers (13-5), who have dropped three straight games for the first time under coach Tyronn Lue. Kyrie Irving scored 20 points to go along with 15 from Kevin Love.

Cleveland was outrebounded 49-33 and surrendered 78 points in the paint. Despite the Bulls connecting on only 3 of 18 3-point attempts, the Cavaliers couldn't find a way to maintain their early momentum, which led to another loss.

Even with Cleveland's current troubles, James said he won't change what he's looking for from his teammates.

"I always say we need to continue to be better," said James, who was 13 of 22 from the field. "It doesn't matter if we're on a 20-game winning streak. We need to stay with the process and continue to get better every day."

NOTES: Cavaliers G/F Mike Dunleavy missed his second straight game with a concussion after being hit in the head on Tuesday night. Coach Tyronn Lue said he doesn't know if Dunleavy will play in Cleveland's upcoming games at Toronto and New York. ... F LeBron James arrived at the United Center wearing a full Chicago Cubs uniform as a payoff for a World Series bet he lost to Bulls G and former teammate Dwyane Wade. ... Wade will not travel with the Bulls to Dallas for Saturday's game against the Mavericks, which will allow the veteran guard to rest with the Bulls playing four games in five days. ... F Doug McDermott continues to deal with concussion symptoms. Coach Fred Hoiberg said McDermott, who has not played since Nov. 12, is waiting to be cleared to take contact and will need time for conditioning before he returns to the lineup.
[© 2016 Thomson Reuters. All rights reserved.]
Copyright 2016 Reuters. All rights reserved. This material may not be published, broadcast, rewritten or redistributed.