Lincoln Christmas Parade lights up the night with "Christmas around the world"

Send a link to a friend Share
[December 03, 2016] LINCOLN - On Thursday evening, residents and visitors to Lincoln were treated to an excellent Christmas Parade sponsored by the Lincoln/Logan County Chamber of Commerce. The theme for this year was "Christmas around the world."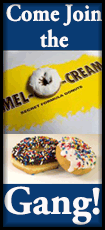 The parade included dozens of entries from local businesses, churches, organizations and clubs. There was a wide variety of fire trucks, some carrying youngsters such as Cub Scout Pack 111 of Lincoln.

With the February Primary just around the corner, there were entries from mayoral candidates, and the city of Lincoln aldermen, and Logan County Board members were also part of the activities.

Other entries that caught the eye included the giant WWII search light from Heritage In Flight Museum located at Logan County Airport. This year the light traveled the parade route while shining its remarkable beam into the night sky. The Statue of Liberty was also on hand courtesy of Rob Shaw of Liberty Tax Service in Lincoln.

The Lincoln Community High School Marching Band thrilled the crowd as they marched the route playing, students and their instruments decked out in Christmas décor.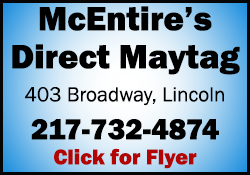 This year the Grand Marshals of the parade were Joe and Melanie Schaler. Joe worked tirelessly with Melanie by his side to help get the Logan County Veteran's Assistance Commission established in Logan County. His hard work did not go unnoticed by local veterans, nor by Governor Bruce Rauner, who this year presented Joe with the Illinois Department of Veterans Affairs, Patriotic Volunteer of the Year Award for 2016.

The military was also well represented with the Toys for Tots entry that included a very large military vehicle with local Marine Corp Commander Jim Harnacke riding in the back along with a giant snowman.

At the end of the parade, the Patriot Guard on their motorcycles escorted Santa into town.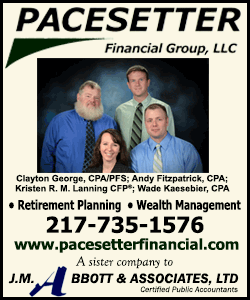 The jolly man of course arrived in his special parade sleigh designed just for him for use at the Lincoln Christmas Parade each year. The sleigh is sponsored by the Lincoln Elks Lodge 914 and ME Realty.
Judges were on hand to view the entire parade, and at the end of the evening made some tough decisions about who should be awarded the three "best entry" prizes.

The winners were:

Chamber of Commerce Choice: Zion Lutheran Church

Best Float: Renew Consignment & Thrift

Best Theme Representation: Charron's Auto Repair

Also at the end of the evening, children were invited to the new offices of the Lincoln/Logan County Chamber of Commerce now located at 110 N. Kickapoo Street to spend some quality time with Santa.

[Nila Smith]