Visitation: 5:00-7:00 p.m. on Friday, November 18, 2016 at Fricke-Calvert-Schrader Funeral Home, Lincoln. Also one hour prior to the services at the church on Saturday
Service: 11:00 a.m. on Saturday, at Zion Lutheran Church in New Holland
Funeral home: Fricke-Calvert-Schrader, Lincoln
Obituary
Lila M. Conklen, 82, of New Holland passed away at 2:40 p.m. on Wednesday, November 16, 2016 at Memorial Medical Center, Springfield.

Lila was born December 5, 1933 in rural San Jose, the daughter of Clarence and Viola Betzelberger Krusemark. She married Irwin Conklen on February 15, 1953 in New Holland at the Zion Lutheran Church. He preceded her in death July 18, 2009.

Lila is survived by two sons - Randy (Mary) Conklen and Rod (Pam) Conklen, both of New Holland, four grandchildren - Sara (Brian) Boerma of Hartsburg, Katie Conklen of New Holland, Reid (Krissy) Conklen of Kirkwood, and Robin (Jose Maria) of Monterrey, Mexico, two great grandsons - William Boerma and Tyler Conklen, two great granddaughters - Emma Boerma and Elizabeth Conklen. Also surviving is her sister, Joanne (Jim) Hawes of New Holland, four brothers and sisters-in-law - Neil and Joyce Conklen, Nelda and Terry Walker all of Mason City, Nancy and Larry Aper of Hartsburg, and Jane and Ed McLaughlin of Murphysboro. She was preceded in death by her husband, her parents and three infant grandchildren.

Lila attended New Holland area schools graduating from New Holland High School in 1951. She and Irwin farmed in the New Holland area for 50 years. She was also employed as a bookkeeper at the Scully Estates office in Lincoln. Lila was an active supporter of 4-H having served as co-leader for many years. She not only supported her children in their 4-H programs but her grandchildren as well. She was a member of the New Holland Women's Club, the Logan County Farm Bureau Women's Committee, the Legion Auxiliary and the New Holland Area Historical Society.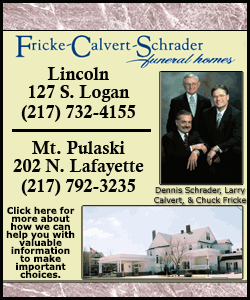 She was a lifetime member of the Zion Lutheran Church of New Holland and was active in the ladies Concordia Society where she held various office over the years. Lila enjoyed traveling with her husband and spending several months in Florida during the winter, gardening, reading, and spending time with her family, friends, and grandchildren. She was an avid Illini basketball fan, as well as a life time Cubs fan.

Services for Lila will be held at 11:00a.m. on Saturday, November 19, 2016 at Zion Lutheran Church in New Holland, with Rev. Charles Olander officiating. Visitation will be held from 5:00-7:00 p.m. on Friday, November 18, 2016 at Fricke-Calvert-Schrader Funeral Home, Lincoln. Also a one hour visitation will be held prior to the service on Saturday at the church. Burial will follow the services at Richmond Grove Cemetery in New Holland.

Memorial donations may be made in Lila's name to the Zion Lutheran Church or the Logan County Fair Foundation.
Click here to send a note of condolence to the family of Lila M. Conklen