No sign of euro zone fiscal stimulus in 2017 borrowing estimates
Send a link to a friend Share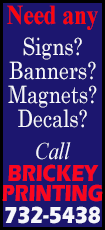 [December 13, 2016] By John Geddie

LONDON (Reuters) - Calls for euro zone governments to ramp up spending to bolster their economies are falling on deaf ears, estimates of member states' borrowing in bond markets next year suggest.

Commerzbank, Morgan Stanley and ING expect debt sales to rise by 20-40 billion euros across the 19-member bloc in 2017, largely due to more bonds needing to be rolled over.

So far, there is no sign of governments borrowing more to meet European Commission calls they leave austerity behind and loosen the purse strings.

A mountain of debt raised to weather the 2008 financial crisis continues to restrict most governments' spending, while Germany -- one of few candidates for fiscal expansion -- remains fixated on balancing its books.

"It is the old problem of the euro zone," ING strategist Benjamin Schroeder said. "Where you need the spending, debt levels are really high, and where you don't need the spending, you have the buffers."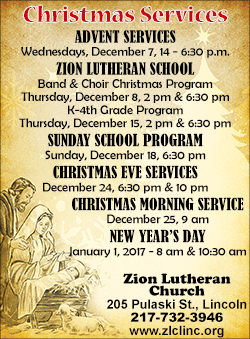 For graphics on euro zone debt and the budget deficits of the biggest member states, click http://bit.ly/2hsBC8z http://reut.rs/2gUUE6x

The only euro zone country to have sketched out 2017 borrowing plans, Belgium, scaled back an earlier estimate and is forecasting it will raise less than in 2016.

Across the bloc, ING expects a rise of 20 billion euros ($21.22 billion) to around 885 billion of issuance next year, Morgan Stanley predicts a 27 billion hike to 876 billion, and Commerzbank sees a 40 billion increase to 900 billion.

The bloc's two biggest economies, France and Germany, are expected to unveil funding plans in the coming weeks. The other main economies, Italy and Spain, will publish plans in January.

The need for fiscal stimulus has arguably never been higher.

A large swathe of the electorate who felt they had not benefited from a modest economic recovery since the financial crisis, voted Britain out of the European Union and political outsider Donald Trump into the White House this year.

This backlash now threatens the political establishment in Europe with France, Germany the Netherlands, and possibly Italy, all set for elections in 2017.

Meanwhile, there are signs the monetary stimulus on which the euro zone has relied since 2012 may have peaked.

European Central Bank President Mario Draghi's has repeatedly called for governments to complement his easy policy approach.

INCENTIVES

Morgan Stanley's head of European rates strategy, Anton Heese, said that even if some governments offer giveaways to try to sway voters this year, the additional spending may take years to filter through, or show up in the bond issuance.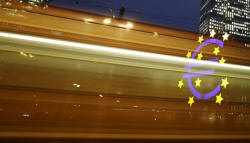 The famous euro sign landmark is seen through the lights of a passing tram outside the former headquarters of the European Central Bank (ECB) in Frankfurt, Germany, January 19, 2016. REUTERS/Kai Pfaffenbach
"Even if the government commits to quite a substantial fiscal expansion, unless there are a lot of projects that are shovel-ready, the actual increase in borrowing can take place over a long period of time," said Heese.
Heese said the main problem is that the EU only punishes countries that do not stick within tight budgetary criteria, but has no way to incentivise spending.
Euro zone finance ministers earlier this month rejected a European Commission proposal to set a target for fiscal stimulus for the bloc next year.

Some banks appear more optimistic on fiscal expansion in the euro zone next year.

"There will be a lot of emphasis in run-up to the elections in Europe next year on more fiscal spend. The period of fiscal austerity is over," Robert McAdie, global markets head of research and strategy at BNP Paribas, said.

"I would expect to see issuance go up."

BNP Paribas said they would release their estimates in late December or early January.

Yet unless Germany, which balanced its budget for the first time in 45 years in 2014, drops its commitment to what it calls the "black zero", there appears little chance of stimulus elsewhere.
Commerzbank estimates that once the old debt that countries will need to refinance next year is deducted, 90 percent of the new euro zone debt will be used to finance the budget deficits of France, Italy and Spain.

And for may euro zone states, memories of recent debt troubles may even be enough to keep spending largesse in check.

"I doubt there is a big room for maneuver if you look at the situation from a distance," former ECB-head Jean-Claude Trichet said at an event in London last week.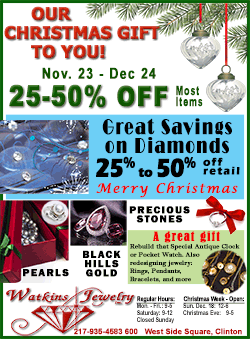 "It is a little bit strange we are embarking on such recommendations when we know that the crisis of 2008 came from over-leveraging and we had a sovereign debt crisis."

(Reporting by John Geddie; Additional reporting by Dhara Ranasinghe; Graphic by Alasdair Pal; Editing by Richard Lough)
[© 2016 Thomson Reuters. All rights reserved.]
Copyright 2016 Reuters. All rights reserved. This material may not be published, broadcast, rewritten or redistributed.