Rockets hold off Nets for 122-118 win
Send a link to a friend Share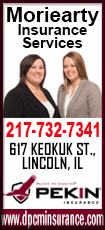 [December 13, 2016] HOUSTON -- Trevor Ariza delivered a blocked shot and a steal inside the final minute and the Houston Rockets squeezed out a 122-118 victory over the Brooklyn Nets on Monday night at Toyota Center.

Ariza blocked a driving layup attempt from Nets guard Joe Harris before stealing an inbounds pass just before the final buzzer. Rockets guard Patrick Beverley added a deflected pass that resulted in a turnover with Brooklyn (6-17) trailing by two points with eight seconds left.

The Rockets (18-7) labored in extending their winning streak to seven games, missing 15 free throws to keep the Nets close. Guard James Harden had 36 points, eight rebounds and 11 assists, and Gordon added 24 points off the bench, including two free throws with 6.4 seconds left to seal with victory.

Nets center Brook Lopez scored a team-high 26 points and the Nets' starting backcourt of Sean Kilpatrick and Isaiah Whitehead combined for 30 points and seven assists. Guard Jeremy Lin added 10 points and seven assists off the bench.

What began as a spirited rally in the third quarter continued for the Nets in the fourth, even after the Rockets pushed back to a 105-96 lead on a Harden layup. Four minutes later, forward Trevor Booker completed a three-point play to give the Nets their first lead of the second half and Lopez followed with a short hook shot that pushed the Nets' advantage to 116-113.
But Gordon followed with a 3-pointer and Harden a short jumper to push Houston back in front.

With the Nets shooting just 38.5 percent from the field in the first half, the Rockets ably maintained a double-digit advantage despite missing 15 of 22 shots from deep.

But once the Nets caught fire in the third quarter, the Rockets proved unable to match them shot for shot, and Brooklyn's sudden burst of offense set the stage for a white-knuckle finish.

The Nets shot a 72.7 percent from the field (16 of 22) in the third quarter. When Lin drilled a 3-pointer with 8.7 seconds left, the Nets trailed 90-85 entering the fourth.

Houston led by as many as 15 points in the first half while limiting Brooklyn to 43 points, but in the third quarter the Rockets sprung multiple defensive leaks in surrendering 42 points.

Lopez was especially effective, scoring nine points in the third quarter. But he wasn't alone as the Nets' balanced scoring ravaged the Rockets.

[to top of second column]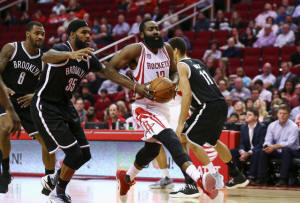 Rockets guard James Harden (13) drives to the basket during the first quarter against the Brooklyn Nets at Toyota Center. Mandatory Credit: Troy Taormina-USA TODAY Sports
When the Rockets scrambled, the Nets converted from the field and at the line, sinking 8 of 12 free throws in the quarter.

There was little in the first half to portend such a collapse for Houston. Harden has 10 points, six rebounds and seven assists at the break. Anderson had 12 points.

But the Rockets never found consistent shooting, and once Lopez got rolling, the Nets discovered their confidence.

NOTES: Brooklyn G Jeremy Lin returned after missing 17 games with a strained left hamstring. Lin averaged 15.0 points, 3.8 rebounds and 6.2 assists before departing after playing just 15 minutes against the Detroit Pistons on Nov. 2. Brooklyn lost 13 of 17 games with Lin sidelined. ... Rockets GM Daryl Morey said Monday that the team was in discussions with the league seeking a resolution to its standstill with F Donatas Motiejunas. The sides hit a snag with Motiejunas' physical over the weekend after agreeing to a four-year deal worth between $31 million to $37 million. Motiejunas played just 37 games last season after undergoing back surgery in April 2015 and had a mid-February trade to Detroit vetoed when Pistons doctors balked at his physical. ... Nets coach Kenny Atkinson returned to Houston where he began his coaching career as director of player development in 2007-08. Atkinson also spent four seasons as an assistant with the Knicks under Rockets coach Mike D'Antoni (2008-12).
[© 2016 Thomson Reuters. All rights reserved.]
Copyright 2016 Reuters. All rights reserved. This material may not be published, broadcast, rewritten or redistributed.