Irving, James lead Cavaliers past Bucks
Send a link to a friend Share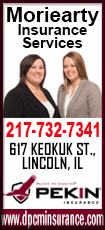 [December 22, 2016] CLEVELAND -- LeBron James' reward for making three 3-pointers in 71 seconds was a seat on the bench. After playing 47 minutes in Tuesday's overtime win against these same Milwaukee Bucks, James was fortunate to be in the game at all.

Kyrie Irving scored 31 points and passed for a career-high 13 assists, while James scored 29 points and grabbed nine rebounds in the Cavs' 113-102 victory. It was their second win against the Bucks in 24 hours and came while they were down two starters.

With Kevin Love again sidelined by a knee injury, James and Irving were forced to carry the Cavs again. Like James, Irving played 45 minutes Tuesday at Milwaukee.

Cavs coach Tyronn Lue was originally inclined to rest Irving and James, but both insisted they felt great and James' trainer, Mike Mancias, signed off on it. So Lue ran them both back out there and they did what stars do -- they won the Cavs the game.

Tristan Thompson grabbed 15 rebounds on a night James and Irving combined for 60 points, 19 assists and 15 rebounds. This time, Lue limited James to 34 minutes and Irving to 35.

That meant pulling James with 5:06 left in the half despite him draining 3s on three consecutive Cavs possessions.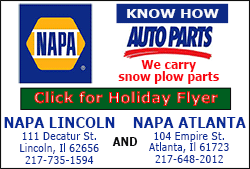 "Bron had it going but I had to get him out," Lue said. "He was mad, but so what?"

Added James: "He said, 'I'm coming to get you after this play. I wished he would've changed his mind. It's cool though. We won."

It was the Cavs' first appearance knowing J.R. Smith would be out an extended period of time. Smith fractured his right thumb in Tuesday's victory at Milwaukee and will require surgery, but the Cavs still exceeded their season average (13.5) for 3-pointers per game with 15 on Wednesday.

Giannis Antetokounmpo scored 28 points and Jabari Parker scored 27 on a night the Bucks relied just as heavily on their stars. Rookie Malcolm Brogdon scored 11 off the Bucks' bench.

"They're the champs. They showed that again tonight," Bucks coach Jason Kidd said. "They never panic. They've seen everything. For a young team like ourselves, we're going through that. Hopefully we can learn from our mistakes."

Irving scored 14 points in the third quarter and passed for at least 12 assists in two of his last three games. He combined with James to score 10 of the Cavs' final 13 points of the third, extending an eight-point lead to 92-77 entering the fourth.

[to top of second column]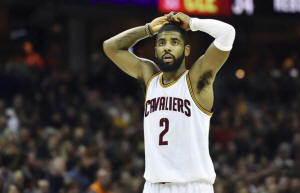 Cavaliers guard Kyrie Irving (2) during the second half against the Milwaukee Bucks at Quicken Loans Arena. The Cavs won 113-102. Mandatory Credit: Ken Blaze-USA TODAY Sports
Irving said he's getting up for games against the Bucks now because of how badly they beat Cleveland in Milwaukee last month. He hopes to see them in the playoffs later this season, although going against his former teammate in Matthew Dellavedova certainly helps, too.

"They're a great young team. It would be great to go four games against them," Irving said. "I'm fired up to go against them every time now, for real. Ever since they kicked our ass in Milwaukee, it's been personal and it's going to continue to be personal."

Dellavedova received his championship ring prior to the game, although General Manager David Griffin dropped it after current Cavs players blitzed him to mob Dellavedova at half court. A Cavs staffer had to retrieve it and had it back to Griffin after the mob subsided.

"A couple of guys got some shots in there, Tristan maybe," Dellavedova said. "It was a special moment. It was good to see those guys. The fans here are pretty special and they've always supported me. I loved playing here. It was cool to come back."

NOTES: The Bucks were outrebounded 44-39 after grabbing 51 in Tuesday's overtime loss. They've grabbed at least 50 rebounds in six games this season after doing it three times all of last year. ... Milwaukee returns home to host Washington on Friday. ... G DeAndre Liggins started at shooting guard for the Cavs in place of J.R. Smith. ... Coach Tyronn Lue expects Kevin Love (knee) to return for Friday's home game against Brooklyn. ... Richard Jefferson was ejected after receiving two technical late in the game following at tie-up with Thon Maker. He ripped his jersey off and threw it into the stands, to the crowd's delight, on his way to the locker room.
[© 2016 Thomson Reuters. All rights reserved.]
Copyright 2016 Reuters. All rights reserved. This material may not be published, broadcast, rewritten or redistributed.