Logan County Board approves changes to billboard ordinance

Send a link to a friend Share
[December 23, 2016] LINCOLN - On Tuesday, December 20, 2016, the Logan County Board held their Regular meeting to vote on motions and resolutions. One focus was zoning amendments to the Billboard Ordinance the Planning and Zoning Committee has been working on the past few months.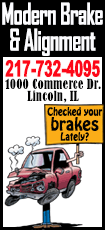 In July the county was approached by Joe Malek of WC Media about constructing a billboard by Four Corner's Lube. The county ordinance has previously limited billboards to agriculturally zoned areas, though state ordinances do not allow billboard in business areas.

After looking at ordinances from several other counties, the committee chose to adopt an ordinance similar to the city of Lincoln with some minor language changes.

The ordinance was previously approved by both the Regional Planning Commission and the Zoning Board of Appeals.

One change was requested at last Thursday's board workshop when Malek asked if they could change the 75 feet setback from power lines to 40 feet. Malek said, "I checked with Ameren and typically 20 feet is more than enough room. Their main concern is being able to get a truck in with a boom to that area" and 40 feet would give them plenty of room.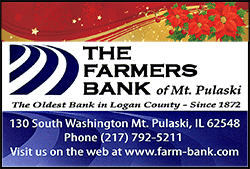 At the Workshop last Thursday, Board Chairman Chuck Ruben made a motion to amend it and change the setback to 40 feet.

Board member Dave Blankenship asked about the city setbacks.

Logan County Zoning Officer Will D'Andrea said the city setback is 75 feet from a power line.

The Zoning Board of Appeals recommended adding county highways as part of setback.

Planning and Zoning Chairman Scott Schaffenacker made a motion to approve the Billboard Ordinance. He then made a motion to amend the distance of 75 feet to 40 feet. The second amendment was to add county to city and township right of ways.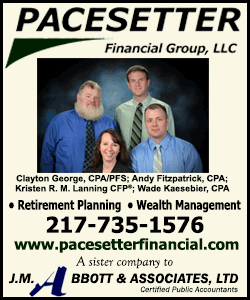 Schaffenacker's motion for the amendment to add county right of ways passed unanimously.

Schaffenacker's motion to amend the setback passed 10-1 with Kevin Bateman, Janet Dahmm, Emily Davenport, Bob Farmer, David Hepler, Chuck Ruben, Bob Sanders, Adam Schmidt, Scott Schaffenacker and Annette Welch all voting yes; and Dave Blankenship voting no.

Schaffenacker's main motion as amended passed 10-1 with Kevin Bateman, Janet Dahmm, Emily Davenport, Bob Farmer, David Hepler, Chuck Ruben, Bob Sanders, Adam Schmidt, Scott Schaffenacker and Annette Welch all voting yes; and Dave Blankenship voting no.

Board members present were Kevin Bateman, Dave Blankenship, Janet Dahmm, Emily Davenport, Bob Farmer, David Hepler, Chuck Ruben, Bob Sanders, Adam Schmidt, Scott Schaffenacker and Annette Welch. Gene Rohlfs was absent.

The next Regular meeting will be Tuesday, January 17, 2017 at 7 p.m.

[Angela Reiners]