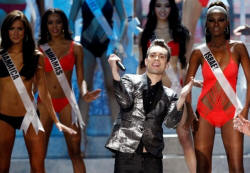 Panic! At The Disco's Urie eyes acting after 'crazy' no.1 album
Send a link to a friend Share
[February 03, 2016] By Rollo Ross
LOS ANGELES (Reuters) - Brendon Urie may the last remaining member of Panic! At The Disco but he is the first to achieve the top spot on the Billboard 200 album charts for the group.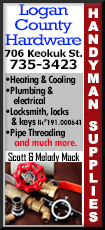 "Death of a Bachelor" debuted at number one last month, pushing down David Bowie's "Blackstar". On Monday, Adele's "25" was back in the top spot.

"I would have never thought this would happen," Urie told Reuters in an interview. "It's incredible, and to be in the same line as so many amazing artists, it's flattering, it's very crazy."

"Death of a Bachelor" is the act's fifth studio album since it formed in 2004. In that time it has gone from four members to just Urie.

Several music videos from the album have been released, showing him as a boxer, a crooner reminiscent of Frank Sinatra and a demonic figure.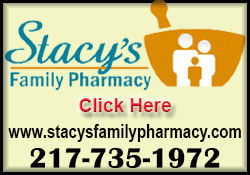 "I like to be flamboyant, play characters, wear make-up, play dress up. I was doing that since I was a kid," Urie said.

"It just felt very natural but there's something about it that just adds to the element of what I want to cultivate with this band."

Urie, 28, says he would like to expand his musical theatrics.

"I would love to act. I get to do it in three and a half minutes in a video on a three-day shoot, which is fun," he said.
"I'm curious what the acting world is like, I'm so foreign to it that I'd be curious to see what that's all about."
Critics have classified Panic! At The Disco under various genres, including vaudeville, baroque pop, indie rock and even hip hop. Urie puts this down to his writing style.

"I kind of do it in parts and then when I sit down I can 'Frankenstein' the whole thing and look at it objectively and step back," he said.

"I like ... piecing things together because it gives you a product that you would never have come up with just sitting down and writing on a blank slate."

(Reporting By Rollo Ross in Los Angeles; Editing by Mark Trevelyan)

[© 2016 Thomson Reuters. All rights reserved.]
Copyright 2016 Reuters. All rights reserved. This material may not be published, broadcast, rewritten or redistributed.