Measure the Oxygen in Your Blood at the Wellness Expo
Send a link to a friend Share
[February 02, 2016] LINCOLN – On February 20, the Logan County Department of Public Health, Lincoln Park District, and the Healthy Communities Partnership are excited to invite the public to the free Wellness Expo from 9:00 a.m. to 1 p.m. at the Lincoln Park District. Abraham Lincoln Memorial Hospital will be on-site providing a variety of free services including free pulse oximetry.
Pulse oximetry is a test that measures the oxygen level of the blood. It is an easy, painless measure of how well oxygen is being sent to parts of the body furthest from the heart, such as the arms and legs.

"It's a very easy test and doesn't hurt at all," said Debbie Ramlow, cardiopulmonary manager at Abraham Lincoln Memorial Hospital. "It is a simple test that passes a beam of red and infrared light through a pulsating capillary bed to determine a percentage of oxygen saturation in the blood. The results are almost instant."



The test is typically performed during or after surgery, to test the lungs, check a person's ability to handle increased activity levels, or to assist with identifying sleep apnea.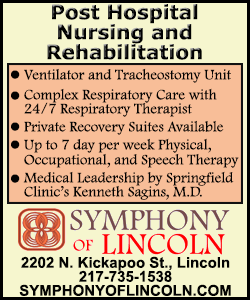 "We hope that Wellness Expo attendees of all ages will stop by our booth to learn about the importance of oxygen levels with this simple test," Ramlow said.

If you would like information about the Wellness Expo, contact Emily Hauter at the Logan County Department of Public Health at 217-735-2317 ext. 235 for more information or LIKE "Wellness Expo Logan County" on Facebook.
[Angela Stoltzenburg, Healthy Communities Partnership]